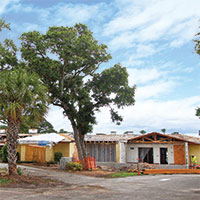 Riomar Country Club renovates clubhouse; completion seen in first quarter of 2020
STORY BY SAMANTHA ROHLFING BAITA
Photo: Riomar clubhouse renovation slated for completion in early 2020.

Riomar Country Club is celebrating its centennial year by remodeling its clubhouse, an ambitious undertaking that got underway with a groundbreaking in April and is expected to be completed by the late first quarter of 2020, according to General Manager Mark Badertscher.
The single-story clubhouse is being extensively renovated and restored by Croom Construction Company to match "the look of Old Riomar [residences]," Badertscher said.
The focus of the restored 14,000-square-foot concrete and stucco structure will be on the east side patio, designed for casual dining. There will be a cupola and an open-air patio with awnings will overlook the golf course.
A new, modernized kitchen will accommodate daily lunch, dinner and "special functions, including  weddings," Badertscher continued. "It will be a nice complement to the renovated golf course and beach club, all part of our [ongoing] strategic planning process."
Riomar Country Club, which is ensconced on 110 acres fronting the Atlantic at 2106 Club Drive, had its genesis in 1919.
Riomar's founders – Cleveland residents Dr. W.H. Humiston, E.E. Strong and Dr. J.P. Sawyer – were seeking a good location in a warmer climate where they could spend their retirement years fishing and playing golf.  Because of its fine climate, they decided on Vero Beach and purchased land here.
The golf course was designed by golf course architect Herbert Strong whose mantra was, "Build natural beauty into every possible feature of play."
Work began on the front nine in the spring of 1919 and was completed by year's end.  The original boundaries and layout are largely the same today.
Today's Riomar is a private, member-owned club. Financial and Communications Manager Joan Stearns said, "We don't solicit. You must be invited." Membership and fee details were not disclosed, but Badertscher says membership currently is "near capacity."