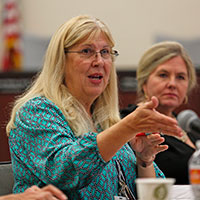 School District is getting new chief financial officer
STORY BY FEDERICO MARTINEZ
Photo: Interim Superintendent Susan Moxley reinstated the position of chief financial officer.

After a nearly a year of financial confusion and uncertainty, the Indian River County School District is getting a new chief financial officer to oversee its nearly $300 million annual budget.
Interim Superintendent Susan Moxley last week reinstated the position of chief financial officer, which prior superintendent Mark Rendell had done away with, and on Monday she selected someone to fill it.
On Tuesday, after this paper goes to press, the School Board was expected to approve the hiring of Ron Fagan as the district's new CFO. Fagan, who currently serves as Executive Director, Financial Services for the 130,000-student Duval County Public Schools, already has accepted the Indian River position – dependent upon the board's approval.
"It is a pleasure and honor to join the Indian River School District team and I am very excited about the opportunity," he told Vero Beach 32963.
Board members on Monday applauded Moxley's selection.
"It is with complete enthusiasm that I welcome Mr. Fagan," said Board Chairman Laura Zorc. "His experience as an Executive Director of Finance in the sixth largest school district in Florida will make him an asset to the district leadership team."
Moxley, who was hired after Rendell resigned under pressure May 24, has reversed several controversial personnel decisions made by her predecessor.
The district has been without a CFO since former Chief Financial Officer Carter Morrison resigned in the wake of Rendell's clumsy attempt to suspend and demote him backfired.
After Morrison's resignation, Rendell changed the title of the job to Assistant Superintendent of Finance and then again to Deputy Superintendent and added additional duties, including overseeing the Human Resources Department.
During a special meeting this past Friday, the board approved Moxley's recommendations to restore the Chief Financial Officer position, with a salary of $130,000. She also received the board's blessing to create the new position of Assistant Superintendent of Human Resources & School Relations. The new assistant superintendent position, which the district began advertising this week, will pay $115,000, Moxley said.
"After reviewing the organizational chart, I realized we needed more consistency in the district," Moxley told the board. "The work flow kind of goes everywhere right now. We may be seeing more organizational changes in the near future."