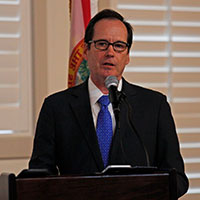 State assigns rail administrator to help oversee Virgin Trains safety upgrades here
STORY BY GEORGE ANDREASSI
Photo: Rusty Roberts, Vice President of Government Affairs at Virgin Trains USA, speaks during an event hosted by The Republican Club of Indian River County.

As Virgin Trains USA prepares to upgrade tracks and railroad crossings in Indian River County for new passenger rail service, county officials are gaining traction in their calls for greater state oversight of the project.
Florida Department of Transportation brass agreed this month to assign a railway administrator to help county officials resolve shortcomings in Virgin Trains' construction plans for railroad crossing improvements.
Florida Transportation Commission Chairman Rob Howse also said he would try to put Virgin Trains' design engineers in contact with county public works officials for "engineer to engineer" discussions about safety and construction concerns.
The progress came during a June 6 meeting attended by Howse, FDOT Secretary Kevin Thibault, FDOTs Southeast Florida District Secretary Gerry O'Reilly and government officials from Indian River, St. Lucie and Martin counties.
At the meeting, county officials told the FDOT brass Virgin Trains has yet to submit permit applications for the improvements planned at railroad crossings, county records show.
Virgin Trains anticipates starting construction this year in Indian River County on the track and crossing improvements needed to establish a passenger rail line between Orlando and West Palm Beach by 2022.
The train company has been offering passenger rail service since last May on the Florida East Coast Railway tracks between Miami and West Palm Beach.
The tracks will be improved between West Palm Beach and Cocoa for the passenger rail extension. New tracks will be constructed along State Road 528 between Cocoa and Orlando International Airport.
Virgin Trains' goal is to offer 16 round trips per day between Miami and Orlando with a travel time of about three hours as an alternative to frequently congested Interstate 95 and Florida's Turnpike. FECR will continue running about 20 freight trains per day on the tracks.
Indian River County is appealing the dismissal of its federal lawsuit challenging the Federal Railroad Administration approval of the Virgin Trains project. The county also filed a state lawsuit asking a judge to rule the county no longer must pay for the maintenance and repairs of railroad crossings under longstanding agreements with Florida East Coast Railway.
On June 4, Indian River County provided FDOT with a list of 12 "major deficiencies and concerns" about Virgin Trains' Feb. 13 construction plans for the county's railroad crossings.
The plans "showed a lack of detail for pedestrian crossings, conflicting design information between plan sheets, disregard for public safety and a general lack of consistency throughout the plans," said county Public Works Director Richard Szpyrka in a letter to FDOT.
So far, Virgin Trains has not responded to county officials about concerns dating back to August 2016, Szprka's letter said.
It will require close coordination between Virgin Trains and county officials to design the railroad crossings to minimize traffic congestion on roads near the tracks when trains are rolling through, Szprka said.
Traffic signals at intersections near the tracks must be interconnected with the railroad warning system so vehicles don't get trapped on the tracks when the crossing gates come down, Szprka said.
Additional safety measures will be needed at railroad crossings because the construction of a second track will allow trains to approach from two different directions and may cause issues with the gates, Szprka said.
Closing two or more adjacent railroad crossings for construction at the same time will cause delays for motorists, Szprka said.
"A proposed construction schedule and details should be provided and additional coordination with the county must be conducted to minimize traffic congestion and impacts to local residents and businesses," Szprka said.
Virgin Trains USA Vice President Rusty Roberts told the Indian River County Republican Club on June 6 safety is important and the company is working with local government officials regarding their concerns.
Roberts accused the Indian River County government of suppressing a report by a county consultant who found the track and crossing improvements for the Virgin Trains project would make the rail corridor safer.
"Indian River County commissioned a consulting group to do a study on rail safety and the impact of the Brightline train (Virgin Trains' previous brand) in Indian River County, asking the question: Is it unsafe for Indian River County," Roberts said. "That study concluded that the corridor will actually be safer after the train starts running through Indian River County."
"It also concluded – with the improvements being done at the crossings and the addition of a second track which allows for the free flow of trains – the number of minutes the gates are down in a 24-hour period with 32 Brightline trains plus the freight would be five minutes less than it is today," Roberts said.
Nearly every railroad crossing in Indian River County will be equipped with four railroad gates and a center median to stop traffic in both directions and prevent motorists from going around the gates, Roberts said.
Virgin Trains will also establish a safety education program in schools and neighborhoods near the train tracks to teach children to stay away from the tracks, Roberts said.