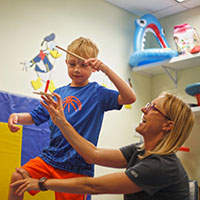 Sunshine Physical Therapy hopes to treat more children for free
STORY BY MICHELLE GENZ
Photo: Bryce Campbell works on physical therapy exercises with Physical Therapist Assistant Erica Pechart at Sunshine Physical Therapy Clinic in Vero Beach.

Like its young patients, Sunshine Physical Therapy Center, is regaining strength.
One of the oldest continuing healthcare businesses in Vero, Sunshine – which was founded to treat children during the worldwide polio epidemic of the 1950s – is aggressively fundraising for a pediatric program that resumed six years ago after a five-decade hiatus.
Clinic Director Lynne Gates House wants to treat more kids for free and has begun writing grant proposals in a bid to gain more philanthropy dollars.
At the same time, she is applying for the first time to the county's Hospital District for $25,000 to defray the 20 percent of treatment costs Medicaid does not reimburse for children who are covered by the government program.
Three years ago, the clinic started the Sunshine Kids Support Program that currently allows 21 of Sunshine's pediatric patients to get free therapy.
Most of the eligible children have issues with insurance, House says. Often there are limits on the number of treatments covered and the patient has maxed out benefits. There may be high copays or deductibles that patients can't afford. Or the waiting list may be too long with providers credentialed with the patient's Medicaid managed care plan.
In the support program, Sunshine assigns specific patients to each donor agency. Consistent donor agencies range from the county's Children's Advisory Council, which makes grants with taxpayer money, to philanthropic groups at John's Island, Grand Harbor and Indian River Club.
Now going into third year, the support for the Sunshine Kids program appears to be growing. Most groups that gave in years one and two are upping their donations for the coming year, House said, with close to $50,000 expected next year.
Meanwhile, House is expanding her staff in anticipation of more patients. "We have no waiting list for physical therapy or occupational therapy," she says. "But the need for speech therapy is mind-boggling. We get three to four calls for speech therapy for every one call for physical or occupational therapy."
The clinic, which provides physical, speech and occupational therapy, currently has about 150 adult patients and 100 pediatric patients.