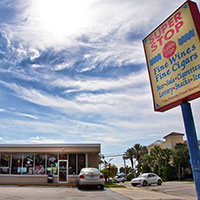 Super Stop store on Cardinal Drive sold; future plans unclear
STORY BY NICOLE RODRIGUEZ

A longtime beachside convenience store site has been sold, but future plans for the prime piece of island real estate remain unclear.
The half-acre Super Stop convenience store property at 3106 Cardinal Drive was sold May 21 for an estimated $2.3 million to FT Uno LLC, a limited liability company of Indian River Shores resident Thomas O. Ryder, according to county records.
No plans for the property's redevelopment have been submitted to Vero Beach.
Ryder's attorney hinted in a letter to the city, however, that Ryder might be considering selling food on the premises.
"The convenience store does not currently prepare or sell food items such as hamburgers, sandwiches, or pizza, by way of example," Ryder's attorney Bruce Barkett wrote the city on April 17. 
"Many convenience stores throughout the city and county do offer such food service as an accessory use," he wrote.
"Please confirm that the current or future owner could add preparation and sale of food items for consumption on or off premises (without a drive-in or drive-through) as an accessory use."
If the new property owner wants to add outdoor seating, he would need to obtain a code compliance permit from the city, Vero Beach Planning and Development Director Jason Jeffries told Vero Beach 32963.
Should Ryder want to transform the shop – built in 1969 as a convenience store – into a restaurant, the process would require a change in land use designation.
"If the property owner added seating to the inside, a change of use would be required," Jeffries said.
"Depending on the parking calculation and required additional parking spaces for a restaurant, a minor site plan may be required."
Ryder could not be reached for comment.
Two of his lawyers declined to comment on the future of the property. Meanwhile, the Super Shop operator's future remains in limbo.
Bob Patel, who has operated his business Super Stop at the location for nearly 20 years, said, "I'd like to stay.
"I want a long-term lease. I've been on a year-to-year lease, but I can't add anything," Patel said. "I want to build my business, but I don't know when they're going to kick me out."
Patel, whose lease expires in July, said he originally was told by one of Ryder's lawyers that the new property owner intended to allow him to continue operating on the property, but since then has been informed he likely won't stay.
According to Patel, the Super Stop is a necessity in the neighborhood, especially for tourists who need a quick snack, cigarettes, water and beer or wine.
"The neighborhood needs the store," Patel said.
"If I get out, there won't be a convenience store for hotel guests and the neighborhood."
Former owners Barbara Thompson and James Swainston put the .39-acre property on the market in January 2018.
The pair originally planned to build a boutique hotel on the property – something the city endorsed – but Swainston suffered a heart attack and they abandoned the project.
The prior owners of the property offered to sell the parcel to the city for $2.4 million late last year so city officials could build a parking garage as a solution to a beach business district parking shortage, but the city didn't bite.