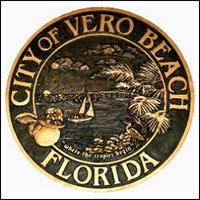 Vero Council votes to retain consultant to help with plan for Centennial Place
STORY BY NICOLE RODRIGUEZ

In a reversal, the Vero Beach City Council has decided to seek the help of an outside consultant in coming up with a plan for redevelopment of the electric power plant site and adjacent city-owned property.
At its June 18 meeting, the City Council authorized city staff to negotiate the terms of a contract with Miami-based DPZ CoDesign for consulting services to redevelop the 35-acre riverfront property on 17th Street and Indian River Boulevard known as Centennial Place.
The site consists of the current wastewater treatment plant, former city electric plant and former postal annex. The firm in April proposed a nearly $150,000 plan for conducting community meetings and workshops to come up with concepts for the prime waterfront real estate.
At that time, the council decided to hold off on negotiating a contract with DPZ and another company that also offered consulting services, in part because of the cost of the services. But last week, council members had a change of heart.
Nearly two dozen members of the public turned out at the June 18 meeting to support the idea of hiring DPZ, which claims to have designed and built more "New Urbanist" projects than any other design company, according to the firm's website.
The principles of New Urbanism promote the creation of communities with pedestrian-oriented, transit-ready neighborhoods that encourage mixed uses and allow the landscape to shape streets. DPZ has completed dozens of projects around the world and helped redevelop downtown Naples and downtown West Palm Beach, according to its website.
"I'm thrilled beyond measure that we might have access to their experience," city resident Victoria Gould said of DPZ. "They have a long history of designing incredible projects and will bring so much knowledge to helping us to create a place that we all love – a place with meaning and purpose."
"The citizens want a voice. This is a very important, passionate issue. We need to let them be heard," said Councilman Robert Brackett, who originally opposed DPZ because of the firm's proposed price. "I also believe we have to go through an outside planner. I think this would be a big undertaking for our staff ... it's going to be a lot on their plates even with an outside planner to help them out."
With the aid of outside experts, the city could potentially formulate a plan for the property in time for a November 2020 referendum, allowing voters to approve or disapprove of various development proposals, Brackett said, adding voter turnout would be greater during a presidential election year.
Brackett also asked city staff to garner DPZ's thoughts on a suggestion by Mayor Val Zudans to allow private developers to propose their own redevelopment ideas and give the public the option to choose concepts from those plans.
Letting private developers submit plans would give voters more choices and help the city "have the opportunity to get top dollar for its asset," Zudans said.