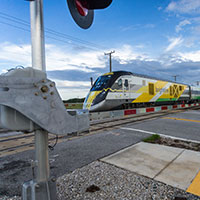 Virgin Trains set to start work on tracks here by end of year
STORY BY GEORGE ANDREASSI

Construction on railroad tracks and crossings for the Virgin Trains USA passenger rail expansion through Indian River County will start before the end of the year, company officials said Friday.
"I think this year, absolutely, but we're just saying imminent at this point," said Michael Hicks, a Virgin Trains USA spokesman, about the construction kickoff in Indian River County.
Virgin Trains USA anticipates sending 32 trains per day through Indian River County at 110 mph when passenger service between Orlando and West Palm Beach begins. The passenger service started running last year between West Palm Beach and Miami and the company expects to have trains passing through Vero Beach by 2022.
Florida East Coast Railway tracks and crossings will be upgraded from West Palm Beach to Cocoa to handle the passenger trains, Virgin Trains USA said May 21. The work includes the construction of a second main track and the replacement of 19 bridges.
New tracks will be constructed along State Road 528 between Cocoa and Orlando International Airport to complete the route.
Meanwhile, Indian River County officials have been talking with train company and state transportation officials about safety enhancements for the county's 32 railroad crossings and roughly 35 miles of track.
Florida Department of Transportation and county officials recently conducted field inspections of the crossings and identified safety issues, said County Attorney Dylan Reingold.
"We will continue to work with FDOT and request the agency address specific concerns about the proposed crossing designs as submitted by Virgin Trains," says the county's 2019 state legislative program report.
Commissioner Tim Zorc said the county government wants to make sure sidewalks are built across the tracks at several major crossings, including 45th Street, near Gifford Middle School, among other safety measures.
In an April 18 letter to state Sen. Debbie Mayfield, who is working to get FDOT to address safety issues, FDOT Secretary Kevin Thibault agreed to assign a top state rail administrator to work with Indian River County officials regarding their safety concerns.
But FDOT rejected public calls for fencing along the entire length of the Virgin Trains USA tracks, Thibault said, because of "concerns that this action would be subject to issues with legal authority for right of way and private property ownership."
So far, 16 people have died on the tracks since passenger service started in January 2018, published reports show.
But Rusty Roberts, Virgin Trains USA's vice president for government affairs, says most of the deaths on railroad tracks involved suicidal people and were outside of the railroad company's control.
"Safety is 'Mission 1' for the Virgin Trains project," Roberts told the Brevard County Commission. "There have been zero deaths, zero incidents that have been caused by a malfunction of our gate system, signaling system or the trains."
Virgin Trains USA anticipates starting passenger rail service between Orlando and West Palm Beach in early 2022, Roberts said Friday in an interview.
The company announced last week it had contracted HSR Constructors, a joint venture of three top railroad and transit builders, for most of the work between West Palm Beach and Cocoa.
They are Herzog Railroad Services of St. Joseph, Missouri; Stacy and Witbeck of Alameda, California; and RailWorks of New York.
The other major component of the West Palm Beach to Orlando expansion is the construction of 35 miles of new tracks alongside State Road 528 between Cocoa and Orlando International Airport. That will be built by Granite Construction Inc., of Watsonville, California.
The entire passenger train project is expected to cost $4 billion, Virgin Trains USA said in May.
Virgin Trains USA is a subsidiary of Fortress Investment Group LLC.
It is the only privately owned and operated intercity passenger rail service in the country. Recent company reports show that it has been losing increasing amounts of money and falling short of its passenger projections on the West Palm to Miami route.