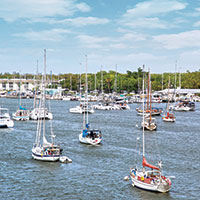 At last, prospects appear bright for Vero Beach Marina
STORY BY SAMANTHA ROHLFING BAITA

Prospects for the Vero Beach Marina are looking up – at long last – with a new marina manager at the helm, the payoff of a crushing debt that kept the facility strapped for cash, and work on a comprehensive marina master plan posed to get underway.
For years, the municipal marina, located in one of the most beautiful locations along the Intracoastal Waterway, has languished in various states of disrepair, creating an unfortunate first impression of Vero Beach with its broken and rotting docks, piles of rusting, abandoned bikes and mounds of miscellaneous construction debris.
Restrooms used by people living at the marina or anchoring there short-term have been moldy, broken down or closed for repair much of the time.
As frustration mounted over the past several years among disgruntled marina users and city residents, the City Council at first seemed not to pay attention and then was divided over how to fix the problems, with some in favor of leasing the facility to an outside operator.
In the meantime, as complaints grew louder, much of the blame was placed on longtime harbormaster Tim Grabenbauer, who stepped down in February. For his part, Grabenbauer pointed to a perpetual budget shortfall at the marina – which is supposed to pay its own way as an enterprise fund – due to a multimillion debt that cost hundreds of thousands each year to service.
Now, finally,  the City Council has made the marina a priority, hiring a new marina manager and using $2.9 million in funds from the sale of Vero Electric to retire the remainder of a $4.7 million loan taken out in 2007 that cost $338,000 a year each year to service.
Now, instead of struggling in a financial stranglehold for the next nine years – which is how long it would have taken to pay off the debt – the marina can use money it generates from dock and fuel fees for capital improvements.
The loan payoff was approved by the City Council Feb. 5, Sean Collins was hired as marina manager on Feb. 12, and on Feb. 23 the city entered into an agreement with Coastal Tech/GEC to oversee development of a master plan for the facility.
Coastal Tech proposes a detailed survey of existing conditions at the marina followed by a public meeting with Vero Beach Marine Commission to identify goals and objectives, and present "up to three conceptual alternatives" for renovation and redevelopment.
The company will then consider environmental impacts of the possible plans, look into state and federal permit requirements, come up with a cost estimate, suggest funding sources and meet with state and federal agencies to get feedback.
After that, it will proceed to create a draft master plan for the Marine Commission and City Council to review in August, prior to presenting the finished plan to the council in mid-September
The City Council and  Marine Commission have expressed great confidence in  Collins, who will be closely involved in the master plan development process.
With two decades marine and maritime experience, Collins comes to Vero from a job as harbormaster with the City of Naples, where he was part of a complete dock restoration and upgrade of that city's marina facilities.