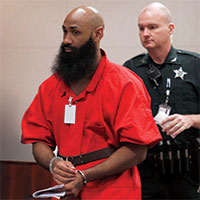 Judge: New trial of accused killer of Brian Simpson to start April 8
STORY BY FEDERICO MARTINEZ
Photo: Henry Lee Jones in court last week

A request last week by murder suspect Henry Lee Jones to replace his current public defender was swiftly shot down by Circuit Court Judge Daniel Vaughn, who gave Jones two options: "Utilize your current public defender," or "represent yourself."
Either way, the judge said, Jones' retrial for the killing of Brian Simpson during a 2011 burglary at the Central Beach resident's home will begin April 8.
Vaughn issued his decision during a brief hearing on Feb. 28, and did not wait for a response from Jones, who was hustled out of the courtroom and back to the county jail.
Jones, who was convicted of a 2011 murder on the island but then had his conviction overturned on appeal, has a history of requesting and then dismissing his court-appointed attorneys.
Jones was found guilty of first-degree murder in 2014 and received a life sentence. According to testimony at his trial, Jones shot Simpson after he and an associate got caught inside the Simpson family's Fiddlewood Road house.
But Jones, now 30, was granted a second trial in 2017 after the fourth District Court of Appeals overturned his conviction. Justices argued that a new trial was warranted because Jones' public defender was not allowed to question potential jurors about racial prejudice or bias. Jones is African-American. Simpson, 41, was white.
In March 2018, Jones became dissatisfied with the lawyers representing him in his retrial and requested a different attorney. After Circuit Court Judge Cynthia Cox turned down his request, Jones decided to represent himself. His attempt did not go well, and in December he was back in court asking for legal assistance.
Judge Cox agreed to appoint a new public defender to represent Jones and approved his request that all motions filed by him, and all evidence submitted by him since he began representing himself, be wiped from court records.
Cox noted in her judgment on Dec. 20 that although it was Jones' decision to represent himself, it was clear that he didn't know what he was doing in court. She stated that his actions were so detrimental to his own case that the court would be denying him a fair trial by allowing him to continue serving as his own counsel.
In his latest request for new council, Jones told Vaughn that he wanted his current public defender, Dorothy Naumann, dismissed because she had refused to file motions and subpoenas that he wanted filed. He declined to give Vaughn any specific details.
"I don't want to go into the evidence, or people that I want to subpoena at this time," Jones told Vaughn. "There has been a lack of communication. We have disagreed on trial strategy and tactics your honor."
Naumann told Vaughn that there were some motions and subpoenas that she didn't file on behalf of Jones because, in her legal opinion, they had nothing to do with his case and lacked merit.