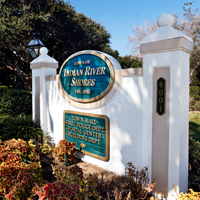 New tap water rates for Shores to deter waste
STORY BY LISA ZAHNER

Vero Beach Utilities on Tuesday will take up a new schedule of rates and fees for its water and sewer customers in Indian River Shores, and the changes could force residents to stop wasting tap water – or pay more. Vero supplies tap water, reuse water for irrigation and sewer service to the Shores.
This slate of conservation-minded tap water rates is the same one imposed by Indian River County Utilities on March 1 after a December vote of the Indian River Board of County Commissioners.
By the terms of a utility franchise agreement signed with Vero Beach in 2012, Indian River Shores is governed by any changes Indian River County makes to its water-sewer rates. Vero has by resolution also extended county rates to the South Barrier Island and mainland county customers outside the city limits to quell complaints about those customers paying city rates.
Still in dispute is a rate change on the Indian River County schedule, effective March 1 for county customers, reducing the cost of reuse irrigation water from 67 cents per 1,000 gallons to 21 cents per 1,000 gallons.
Vero officials are refusing to reduce the reuse water rate for Indian River Shores to the 21-cent county rate because, Vero Water Sewer Director Rob Bolton says, that 21-cent rate does not apply to the "pressurized" reuse water Vero provides to island customers. Bolton said the county rate is for "non-pressurized" reuse water that carries no volume delivery guarantee.
This claim of an apples-to-oranges comparison was not raised or made clear in 2012 when the Shores signed a 15-year agreement with Vero for reuse water.
The city is using a rate consultant to determine what a fair pressurized rate would be. "The reclaimed water rate will remain at 67 cents per thousand gallons until the study is completed," Bolton wrote to Shores Town Manager Joe Griffin on March 1.
Shores Vice Mayor Bob Auwaerter, who also chairs Vero's Utilities Commission, stated he will push for Vero to reduce the Shores reuse water cost to the 21-cent rate, and that the town's residents will not tolerate Vero going back on the provisions of the franchise agreement. The issue was set to be discussed Thursday morning at the Shores' regular Town Council meeting.
At the same time, Griffin has notified Vero about complaints about the delivery of so-called "pressurized" reuse irrigation water, including reuse water delivered to The Estuary where pressure varied wildly from 0 PSI to 135 PSI within a matter of days. "I would like to address this issue with you and Rob [Bolton] in the near future," Griffin wrote to Interim Vero Beach City Manager Monte Falls.
Also, in response to concerns over aging galvanized water pipes under the oldest parts of John's Island, Griffin has requested documentation that Vero has and will be holding up its end of the deal in terms of renewal and replacement of water-sewer infrastructure. Vero is in the process of replacing a span of pipe on Silver Moss Drive in John's Island to correct a persistent issue of "yellow water" coming out of faucets and showers there.
Vero's franchise agreement with the Shores requires the city to provide the town with a copy of its annual Capital Improvement Plan showing how much will be spent on keeping up the utility equipment in the town and at the city's plants. On March 19, Griffin requested Bolton send him "copies of the yearly plans from the inception of the Franchise Agreement."
With regard to the new conservation-minded water rates, the U.S. Geological Survey estimates the average national water consumption is 80 to 100 gallons per day, per person. At the high end of 100 gallons per day per person, that would total about 3,000 gallons per month per person, assuming that all hand-washing, toilet flushing, cooking and dishwashing was done at home every single day, and not at a workplace, restaurant or other location. The new county rate aims to curb water consumption of more than 7,000 gallons monthly per household.
Indian River County Utilities Director Vincent Burke said on Monday, "Ultimately the rates for users who are conservative with their consumption (up to 7,000 gallons per month) will see their rates go down. Higher usage users will see their rates go up slightly due to the Board of County Commissioners' direction in trying to get folks to become more aware about their water usage and to promote conservation (or to discourage higher consumption)."
Households that are high-volume users – 12,000 or more per month – will pay as much as $25 more per month, on top of what they pay now. These increased rates apply to tap water, not reuse water.
The public hearing on the new Shores rates will be held at 5 p.m. Tuesday at Vero Beach City Hall in council chambers and will be televised on City Channel 13 and on live stream at www.covb.org.