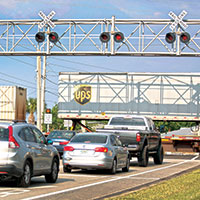 Officials fear escalating railroad crossing maintenance costs
STORY BY GEORGE ANDREASSI

Indian River County's local governments paid $2.8 million to Florida East Coast Railway and affiliates in the past five years to lease and maintain 29 railroad crossings, where local roads cross the railroad's right-of-way.
Those costs could double, increasing to more than $1 million a year, if Virgin Trains USA realizes its vision of establishing express train service between West Palm Beach and Orlando, according to a consultant's estimate.
And the local governments could be on the hook for escalating railroad crossing costs for decades if the express train proves profitable and continues to run.
That's partly because longstanding agreements between Florida East Coast Railway and local governments from Miami to Jacksonville require those governments to reimburse FECR for the costs of constructing and maintaining railroad crossings and safety equipment. Virgin Trains has an agreement with Florida East Coast Railway to operate on its tracks and right-of-way.
Another reason is FECR's 159 railroad crossings between West Palm Beach and Cocoa must be upgraded to meet the Federal Railroad Administration's sealed corridor standards for the higher-speed passenger trains.
Virgin Trains plans to traverse Indian River County at speeds of up to 110 mph, compared to the train's top speed of 79 mph between West Palm Beach and Miami.
Sealed corridor treatments block all lanes of travel leading to a railroad crossing to prevent high-speed trains from colliding with vehicles and pedestrians.
One way to seal a crossing is to install two gates on each side of the tracks that block all lanes of traffic. Another is to keep the standard arrangement with one gate on each side and construct raised traffic medians on each side of the tracks to prevent vehicles from driving around lowered gates.
The crossings will also need to be widened to accommodate the second track that will be constructed in the FECR right-of-way to handle the addition of 32 passenger trains per day. FECR already operates more than 12 freight trains per day.
So local governments could ultimately face rising costs to maintain more advanced safety equipment and wider railroad crossings that will be subject to additional wear and tear from 32 passenger trains traveling more than twice as fast as the freight train traffic.
Indian River County paid FECR and affiliates $2.3 million in the past five years to lease and maintain 21 railroad crossing, county records show. That averages out to about $456,000 per year.
Vero Beach paid FECR and affiliates $465,497 from 2014 through 2018 to lease and maintain five railroad crossings, or an average of $93,099 per year, city records show.
Sebastian paid FECR $97,705 in the last five years to lease and maintain three railroad crossings, city records show. That includes $71,893 in 2017 for the Barber Street crossing reconstruction.
Florida Department of Transportation paid FECR $18,000 between 2014 and 2018 to maintain the railroad crossings on State Road 60 at 20th Street and 19th Place, state records show. FDOT does not lease the crossings.
FDOT's annual maintenance costs per crossing are expected to increase to $4,465 from $1,800 once the crossings are improved to sealed corridor standards, said FDOT spokeswoman Barbara Kelleher.
That's an increase of nearly 250 percent.
Going forward, Indian River County can expect to pay more than twice as much annually for railroad maintenance costs if passenger train service starts up, according to an estimate by Triad Railroad Consulting of Norwich, Connecticut.
The county faces $15.6 million in railroad crossing maintenance costs during the next 12 years if the passenger train service is established, the consultant estimated, and $7.4 million if it isn't.
"I'm very much concerned because it's a bit of an unknown number," said County Commissioner Tim Zorc. "You could easily be looking at well over $1 million a year going forward, which is one of the reasons the county has fought so hard."
Indian River County Attorney Dylan Reingold said it appears FECR and Virgin Trains/Brightline expect the county to pay steadily increasing railroad crossing maintenance costs forever.
"We are absolutely opposed to Brightline seeking to pay the cost of its maintenance bills from the pockets or our constituents," Reingold said in an interview March 21.
Vero Beach Mayor Val Zudans expressed similar sentiments in a text response to questions about the city's railroad crossing expenses.
"I think it's totally unjust for substantial new crossing maintenance costs for a high-speed passenger rail that is financial unviable to be dumped on local taxpayers who have zero benefit," Zudans said.
Meanwhile, the increased maintenance costs don't include initial construction costs for crossing upgrades.
Triad Railroad Consulting estimated it would cost $11.5 million to construct the safety and track upgrades required at the 21 railroad crossings under the county government's jurisdiction.
Indian River County filed a complaint in state circuit court in January asking a judge to rule FECR and Virgin Trains have no right to reimbursement from the county for the construction and maintenance costs related to the proposed passenger rail service.
The case is being heard by Judge Janet Croom in the Indian River County courthouse.
FECR and Virgin Trains – which was previously known as Brightline and before that All Aboard Florida – asked the judge to dismiss the suit or transfer it to one of the counties where the companies are based. FECR is based in Jacksonville and Virgin Trains is based in Miami.
The railroad companies – which are separate businesses – claim the county will not be required to pay the initial cost of crossing upgrades.
The county's suit is "partially moot," FECR and Virgin Trains said in their legal response, because Virgin Trains has stated it will pay for the railroad crossing improvements needed for passenger service.
"Contrary to the county's suggestion, there is no bona fide controversy concerning the payment of 'construction' costs for any Brightline related crossing improvement reflected in its construction plans," the FECR and Virgin Trains legal team said. "Brightline has long made clear that it will be paying for such costs itself."
"In areas where we will go above 79 mph, Brightline will upgrade the crossings to meet sealed corridor treatment as defined by the Federal Railroad Administration," Virgin Trains spokesperson Ali Soule told Vero Beach 32963.
"Grade crossings exist because public authorities requested permission to cross the FECR Railway/Brightline corridor, which is private property, for a public use – a local roadway. As a result, they signed agreements to pay for the ongoing maintenance of the roadway. They are not paying to maintain the railroad but to maintain the public roadway that is used by the public."
Soule noted in an email that "FECR is a taxpayer in IRC, and Brightline will be soon." Records show FECR and affiliates paid $1.4 million in the past five years to Indian River County in property taxes, assessments and equipment taxes.
While Indian River County officials continue to resist the passenger train project, Martin County, which had partnered with Indian River County in legal fights against the train, settled with Virgin Trains in November and agreed not to oppose any aspect of the project.
The deal caps Martin County's costs for railroad crossing maintenance at $251,000 per year for 14 years.
Virgin Trains also agreed to pay to install and maintain fencing along the sections of track deemed hazardous, among other concessions to Marin County.
"Brightline offered the same settlement to Indian River County that was accepted by . . . Martin County, which included capping their maintenance cost for 17 years," Soule wrote in his email. "IRC rejected the settlement offer and instead, voted to spend more taxpayer dollars fighting Brightline."