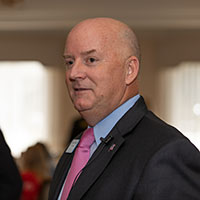 Rendell on shaky ground with three members
STORY BY FEDERICO MARTINEZ
Photo: Indian River School District Superintendent Mark Rendell.

Embattled Indian River School District Superintendent Mark Rendell has until the end of July to convince the Indian River County School Board it should renew his contract, which expires June 30, 2020. But three board members indicated last week they want new leadership for the district.
At its March 12 business meeting, the board directed Rendell to submit by July 1 a report on whether he accomplished goals and objectives set for him during the 2018-19 school year. The board then has until the end of the month to decide whether to extend his contract.
"It was brought to my attention that based on the second amendment to Dr. Rendell's contract ... the board may by majority vote [on or before July 31] – decline to employ the superintendent beyond June 2020," board member Jacqueline Rosario told other board members during the business meeting.
When other board members asked Rosario if she meant to say that the board needs to decide whether to renew or not renew Rendell's contract beyond June 30, 2020, she repeated, "The board may by majority vote – decline to employ the superintendent beyond June 2020."
Two other board members who asked not to be named said after the meeting that they intend to vote against renewing Rendell's contract. Both said they believed Rosario's choice of words was intentional and meant to send a message to the superintendent.
"He isn't going to make it," one of the board members told Vero Beach 32963. Rosario could not be reached for further comment.
Rendell, whose annual salary is $163,200, has faced mounting criticism by some board members and residents unhappy with his management style, the district's financial woes, poor student test scores and low morale among teachers and staff – concerns board members repeated during the business meeting last week.
Rendell, who was present during the March 12 meeting, did not directly respond to board criticisms, but promised to deliver his self-evaluation by the July 1 deadline, which will give him time to include state assessment results that arrive in mid-June, he said. Rendell told board members his report would also include strategies on how he plans to address the district's many challenges.
The superintendent's tenure has been plagued by numerous controversies, including several audit discrepancies, and an embarrassing investigation by the state Department of Education, which in January threatened to withhold $1.8 million in transportation funds from the school district for inflating the number of kids carried to and from their classes each day by school buses.
Other controversies included Rendell's disastrous attempt to fire teacher Joe Nathaniel on charges that were refuted in a scathing ruling by Administrative Law Judge John G. Van Laningham; a cheating scandal at Vero Beach High School that resulted in many students who didn't cheat losing valuable educational certifications; and the exodus of teachers from troubled schools such as Gifford Middle.
Rendell's past annual job performance evaluations and contract renewals have resulted in contentious battles between board members. For example, in 2017, a closely divided board voted 3-2 to extend the superintendent's contract to June 2019.
In 2018, Rendell received a one-year contract extension despite receiving failing grades on his evaluation from two board members at the time – Laura Zorc and Charles Searcy. Three other board members – Shawn Frost, Tiffany Justice and Dale Simchick – voted to retain the superintendent.
Two of Rendell's supporters and one of his critics are no longer on the board. Simchick, Frost and Searcy were replaced in the last election by Rosario, Teri Barenborg and Mara Schiff; Zorc now serves as the board's chairman.
During the March 12 business meeting, Barenborg, Schiff, Zorc and Rosario told Rendell that they were concerned with the low morale at schools.
They noted that teacher absences continue to increase every year and 20 percent of the district's teachers left after the 2017-18 school year, a number that is likely to be surpassed this summer, board members said.
Rendell said a big part of the problem is that neighboring districts are paying higher salaries that Indian River cannot match. He also said the district has conducted several surveys this school year to try and develop strategies to improve morale and retain staff.
Rendell's report will be one of several tools the board will use to evaluate the superintendent, Zorc said.
This past weekend Rendell spoke with Vero Beach 32963 and provided a nine-page summary highlighting what he says are his accomplishments since arriving in the district in 2016.
Among the highlights cited were an increase in graduation rates and a significant enrollment increase in advanced courses for all students, including minority students. Rendell also claimed credit for enhanced vocational education.
"When I arrived here, the district lacked a clear vision for expanding career and technical education courses," Rendell said.
To address that problem the district opened the Treasure Coast Technical College, consolidated adult education courses and added construction trades courses, the superintendent noted in his summary.
A recent report by Vero Beach 32963 found that fewer than half of local students pass the 10th grade English Language Arts test mandated by the state, but Rendell said students have improved overall on their annual state assessment tests. He also said there has been a decrease in student discipline issues, with law enforcement officers now located in all schools, and that teacher salaries have increased each year.
"As you can see from the information in my response, we are moving in the right direction and the district is better off than it was four years ago," Rendell said. "Student performance is rising, our students have more academic opportunities than ever before, our schools are safer than they ever have been before, we have increased our employee retention rates, implemented new communication tools, and we have stronger partnerships with community organizations than we ever had before."
Rendell also noted that "not a single board member has informed me that they plan not to extend my contract."