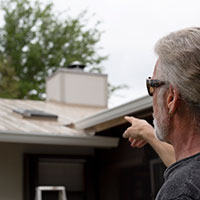 Roofing company faces dozens of complaints over work not done
STORY BY FEDERICO MARTINEZ
Photo: Randy Smith points out imperfections in the roofing job Alliance Group Contracting Corp did on his home in Vero Beach.

When Vero Beach homeowners Randy Smith and Jan Turban hired Alliance Group to replace their roof and gutters, they were told the job would be done within six weeks. Nine months later, after paying Alliance $16,000, their roof was still only partially installed and had not been worked on for months, leaving their house exposed to rain and humidity which they say has caused thousands of dollars in damage.
An investigation by Vero Beach 32963 found that Smith and Turban are among dozens of homeowners in Indian River and surrounding counties who have either filed lawsuits against Alliance or lodged complaints about the company with the Florida State Attorney General's Office or the Florida Better Business Bureau.
The complainants allege they hired Alliance to repair their roofs, paying thousands of dollars upfront, and then never heard from the company again or heard only excuses for why work was not underway or completed.
Alliance owner Adam Ryckman, whose office is in Port St. Lucie, acknowledged during an interview on Feb. 25 that many of the complaints are true and blamed the problems on subcontractors and construction managers who didn't do the work they were hired to do.
"We've had a lot of problems during the past 11 to 12 months," said Ryckman. "We hired some wrong people who let us down. I've had to get involved personally and I'm just discovering a lot of the problems. We're doing what we can to try and get the jobs done."
But several homeowners say they repeatedly spoke to Ryckman directly only to be given a litany of excuses, including that suppliers were out of the tile or steel needed to complete the roof work on their homes. One of those suppliers, Extreme Metal Fabricators of Palm City, produced business records that directly contradict Ryckman's claims about material shortages.
Smith provided a detailed account of his experience with Alliance, supporting his description of events with copies of cancelled checks, numerous revised contracts Alliance asked him and Turban to sign during the past year, and other documents. 
"Initially, we were told that we would have to pay Alliance $500 in May 2018 to secure a spot on the company's schedule," Smith said. A week after signing a contract, the couple were informed that they needed to pay Alliance an additional $4,000 to start the job.
That first contract stated roof and gutter work would be completed in "4 to 6 weeks," but months passed before workers returned and tore the old roof off the home, Smith said.
After the roof was removed, Alliance demanded another $9,632.22 before they would replace the roof, according to Smith. In December, Alliance produced a new contract that stipulated the roof would be completed by Dec. 24, 2018, but the job went unfinished until February.
"Adam Ryckman kept telling me that they couldn't finish the roof because their metal supplier ran out of metal," Smith said. "I contacted the supply company, Extreme Metal Fabricators out of Palm City. An employee there told me that they had plenty of metal [to finish our job], but Alliance hadn't paid for it."
According to Extreme Metal Fabricators' records, Alliance submitted an order for the metal roofing material needed to reroof Smith and Turban's home in July 2018 but didn't pay for the material until November.
"I really don't want to get involved in this," one manager said. "But what they've said isn't true. We have plenty of metal. If we had run out of metal we'd be out of business."
Other Alliance customers interviewed said they too had been told their roof jobs were on hold due to material shortages, only to find out when they contacted suppliers directly that there was no shortage of the materials needed for their jobs.
The day after Ryckman was contacted by Vero Beach 32963, an Alliance crew showed up at Smith and Turban's home and resumed working on their half-completed roof. Ryckman asked Smith and Turban to sign yet another contract promising that the roof would be completed by Feb. 28 and agreed to subtract $3,000 from their final bill.
The roof was at long last completed but on March 6 the job failed to pass an inspection conducted by the Indian River County Building Division.
Building inspector Erika Lundeen said the roof lacked the proper number of ridge vents as required by state code. The appropriate number of vents should be four – including the attic and garage, she said. Alliance only installed a small vent over one of the bedrooms in the home.
"The problem needs to be resolved before we will approve the inspection," she said. "We're very happy that Mr. Smith brought this to our attention. We wish more homeowners would keep a closer eye on the work being done to their homes."
Lundeen's office is waiting to hear back from Alliance to see when, or if, the company plans to correct the problem.
If Alliance does not correct the problem and get the job to pass inspection, a recommendation to revoke Alliance's contractor license will be made to Florida's Department of Business and Professional Regulations, Lundeen said.
"At this point I may end up having to hire someone else to fix the mess Alliance has made," Smith said.
Vero Beach 32963 has identified 26 homeowners who have filed complaints with the Better Business Bureau of Florida or the Attorney General's Office or filed lawsuits against Alliance during the past three years, including eight homeowners in Vero Beach, three in Brevard County, and two in Port St. Lucie. The Attorney General's office confirmed it is investigating multiple complaints against Alliance but would not comment further on the pending investigation.
As of March 9, Alliance's website showed it is accredited by the Better Business Bureau, but its accreditation was revoked in October for failing to "abide by all written agreements and verbal representations" and failing to "fulfill contracts signed and agreements reached, along with other violations of the BBB code of professional conduct."
Ryckman is also facing personal legal woes. A Florida Notary Public, he has been charged with false or fraudulent acknowledgement in Port St. Lucie for allegedly falsifying the date on a contract with a homeowner who has since filed a $340,000 lawsuit against him, according to St. Lucie Clerk of Court records.
Ryckman was out on bond while awaiting trial on the notary charges when arrested Dec. 1 on battery charges – a violation of his bond conditions. Since then he has been under house arrest, according to court records.