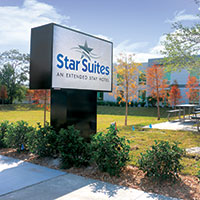 Star Suites makes Riverside 'an even more coveted gig'
STORY BY SAMANTHA ROHLFING BAITA
Photo: Star Suites near Historic Dodgertown.

Eliza Doolittle no longer has to look for "a room somewhere." Now, she's got a suite.
The cast of Riverside Theatre's current mainstage show, "My Fair Lady," are the first to stay in Riverside's new actors' housing facility, the Star Suites, which opened this month near Historic Dodgertown.
"Riverside Theatre has done something completely new and, as far as I know, unprecedented," said James Beaman, who plays Zoltan Karpthy in "My Fair Lady."
"I know that, once word is out in NYC about these great new actor digs, Riverside Theatre will be an even more coveted gig than it already is!"
The 60-suite hotel will relieve Riverside of having to find – and pay for – some 10,000 nights a year of hotel rooms or apartments for visiting cast and crew.  It also will generate a steady stream of revenue for the theatre as rooms are rented to the public when not being used by actors, directors and designers.
As an Equity theater, Riverside is required to provide housing for its performers and other theater professionals, many of whom come here from New York to entertain Vero Beach audiences.
Ray McGowan, long-time Riverside Board of Trustees member and the project's board liaison, said finding all those accommodations had grown more and more burdensome for theater staff while the cost "skyrocketed" season after season, nearing half a million dollars a year.
Facing those circumstances, Riverside's managing director and COO Jon Moses hatched the idea for a theatre-owned facility. Moses brought his vision to McGowan and Heidi Waxlax, current Board of Trustees president. CFO Patti Rooney joined the brainstorming sessions, as did long-time Riverside supporter and hotelier Keith Kite of Kite Properties LLC, who owns and operates Springhill Suites and Hampton Inn in Vero along with other successful hotels. Kite, who will manage the property, brought invaluable knowledge regarding capital and operating costs.
Given the frustrating, costly and time-consuming search for accommodations every season, McGowan observed, Riverside Theatre was pretty much in the hotel business anyway. The next step was a major one – but it made sense. Producing Artistic Director/CEO Alan Cornell gave his blessing, the Board approved, and the project was a "go."
McGowan was put in charge of fundraising – which didn't turn out to be too difficult. He said donors loved the concept and opened their pocketbooks to prove it.  While the final cost figures have not yet been calculated, Star Suites is already paid for. 
"It should come in at around $9 or $10 million," McGowan says.
A year and a half after the board approved the plan, Star Suites opened its doors to Eliza Doolittle (aka Kristen Beth Williams) and the rest of the "My Fair Lady" cast and crew.  Also currently in residence is the cast of the Waxlax production, "Ghost Writer" and the cast of the next Main Stage musical, "Legally Blonde," now in rehearsal.
The  two-story, 28,000-square-foot building, which sits on a 4-acre parcel at 2550 Flight Safety Drive purchased from the Los Angeles Dodgers for $600,000 in 2017, was designed by hospitality industry experts LLW Architects Inc., of Memphis, and built by Proctor Construction.
The design and décor are sleek and modern and, at the same time, welcoming. Each of the 60 one-bedroom, 500-square-foot suites faces a palm-edged courtyard where lawn chairs are abundant, already a favorite gathering place.
The suites share a single floor plan and interior design that includes a blue/gray palette, gray wood-look flooring, quartz countertops, dark cabinetry and recessed lighting.
The front room accommodates a seating/dining area with fold-out sofa bed and 43-inch flat-screen Smart TV wall unit. The full kitchen includes disposal, full-size fridge, convection oven, cook top and microwave, and comes completely outfitted, down to the pots, pans and silverware.
Bathrooms feature large glass showers and the bedrooms have big closets and built-in king-size beds, individual reading lights, and a second flat-screen TV. Each suite has two independently controlled air conditioning units, and its own "theme," in the form of large, strategically placed color photos from Riverside's hit shows. Eight of the units have connecting doors for additional flexibility.
The light-filled lobby/reception area offers stylish seating.  Guests have access to a washer/dryer laundry room, exercise room, wi-fi station, swimming pool, and a spacious terrace for large gatherings. 
And what do the "stars" think of all this effort on their behalf?
Williams, who is sharing her suite with husband and co-star James Ludwig (Henry Higgins) and their little son, says it's wonderful. "I have seen very few theatres take on a project of this magnitude that is mostly for the benefit of the actors. I applaud Riverside for their dedication to improve the quality of life of the artists they employ."
"I've worked with regional theaters all over the country and can honestly say that Star Suites is the best accommodations I have ever come across," says Robin Abramson, who plays Myra in "Ghost Writer."
"The rooms are bright, clean, and quiet. The staff is friendly and eager to help. I have been sitting by the pool working on lines and marveling at how lucky I am."
Building a full-service, extended stay hotel just a short drive from the theater, giving each visiting artist a private efficiency apartment, is the best of all possible worlds, in Beaman's opinion.
"This is a great business model for other theaters to follow, and a true innovation," he said.