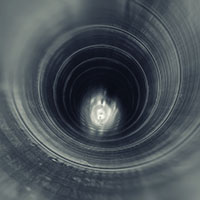 Vero to replace aging water main in John's Island
STORY BY LISA ZAHNER

The City of Vero Beach this week is slated to dig up and replace a galvanized street main that is delivering poor-quality drinking water to residents in a John's Island neighborhood, but as aging pipes in the community continue to deteriorate, fixes like this might be only a Band-Aid on a much larger problem.
Residents in the 400 block of Silver Moss Drive live in a first-class country club community on a street where a home sold recently for $1.4 million, but they have been drinking and bathing in dingy yellow water.
New Town Manager Joe Griffin contacted Vero utility officials after complaints from residents, including one from a woman who said no matter how she tries to filter or purify her tap water, it still comes out yellow.
Two residents spoke to Vero Beach 32963 by telephone, but did not want to be quoted by name. One said the water had been discolored for some time. The other water customer had recently moved in and could not say how long the water had been that way.
After the complaints, engineers investigated the situation and found that the water main running to the golf cottages on Silver Moss Drive is a galvanized pipe that was installed in the 1970s. Galvanized pipe is made of steel that has been coated with zinc to ward off corrosion and rust. The estimated lifespan of galvanized pipe in highly-corrosive seaside conditions in Florida is about 40 to 50 years, and that concerns Shores Mayor Tom Slater.
Slater said it was "good news" that Vero officials committed to fix the Silver Moss Drive problem so quickly after meeting with Griffin, but added, "That's one of the oldest sections of John's Island and you've got to wonder if this is only the beginning."
Indian River Shores has a water-sewer and reuse irrigation water franchise with the City of Vero Beach that extends to 2027. The 2012 agreement the Shores signed with Vero replaced a 30-year agreement it signed in the 1986 to get reliable water service to the town.
In September 2011, when the Shores was considering switching to Indian River County for water and sewer service, the city said the town would need to purchase its utility infrastructure if it contracted for county service. Vero officials backed up their claim of ownership with an appraisal done by GAI Consultants that valued the city-owned utility assets in the town at $9.8 million.
Vero Water and Sewer Utility Director Rob Bolton said of the Silver Moss Drive project, which is slated to start Thursday, "Hopefully everything will be complete in two to three weeks."