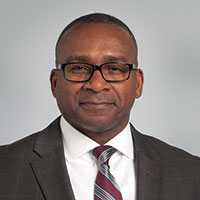 With new No. 2, Cleveland Clinic to focus on efficiencies
STORY BY MICHELLE GENZ
Photo: New chief operating officer Ralph D. Turner

Cleveland Clinic Indian River has a new chief operating officer, after a year and a half during which that position was vacant at the Vero hospital. Ralph D. Turner, who for the last two years was Cleveland Clinic's executive director for patient support services, arrives in Vero next week.
That's just in time to begin work on what system-wide CEO Dr. Tom Mihaljevik announced last week is a new focus on operational efficiencies, particularly at the healthcare company's recently acquired Florida hospitals and other expansion projects.
Mihaljevik's announcement was part of his annual State of the Clinic address, which revealed the health system's operating income fell last year by 19 percent. Operating income is equivalent to operating profit, the amount that remains after a company pays its operating expenses.
Mihaljevik said increasing costs of care and decreasing reimbursements were to blame for the decline. To study those factors, he announced the formation of the Center for the Study of Healthcare Delivery at Cleveland Clinic. Mayo Clinic launched a similar initiative in 2011.
Last year's numbers remain staggering even with the decline: Operating income was $266 million on revenues of nearly $9 billion, which reflected a 6 percent increase in revenue compared to 2017.
Equally impressive is Mihaljevic's 5-year goal of doubling the number of patients the system serves. A sizable portion of that growth is expected to come from telehealth, which last year grew 67 percent at the health system. The prior year, virtual visits grew by 183 percent. Overall Cleveland Clinic cared for 2 million patients last year.
Mihaljevic also discussed the first step toward a systemwide $15 minimum wage, a goal announced last year. That interim step, a raise to $14 in January, did not apply to the newly minted Florida employees because of a clause in the takeover agreements that pay and benefits for those employees would stay the same for one year.
Speaking to caregivers gathered in the ballroom of the Cleveland campus' Intercontinental Hotel last Wednesday, Mihaljevic declared  the health system "a beacon of hope for millions."
"The world looks to us for innovative solutions to the greatest challenges in healthcare," he said.
Among those innovations is a "speak up award" he instituted to encourage caregivers to alert management about patient safety issues. "Silence is the enemy of safety," he declared. "Cleveland Clinic supports a culture where every caregiver can speak up, without fear, on matters of patient safety."
He also pointed out the need for more security measures after the system confiscated more than 30,000 items considered weapons from visitors and patients at its northeast Ohio hospitals. While only 17 guns were seized, there were knives, box cutters, cans of mace and tools, prompting Mihaljevic to mandate metal detectors at all emergency room entrances as well as panic buttons on the name badges of caregivers in certain hospitals.
Here in Indian River County, COO Turner will take over a position last held by Camie Patterson, who left for a Bradenton hospital in August 2017, just 13 months after joining what was then Indian River Medical Center.
Turner grew up in Valdosta, Georgia, and graduated from Troy University in Alabama. He went to the University of Maryland for his undergraduate and graduate degrees, focusing on business, healthcare and public administration.
He served 21 years in the U.S. Army's Health Services Command, including a stint in Seoul, South Korea. At the time of his retirement, he was a Chief Warrant Officer Four and a director in the clinical engineering department of Walter Reed Medical Center in Bethesda.
After the army, Turner was vice-president of MedStar Washington Hospital Center in Washington, D.C., for four years before going on to spend five years with the health system of the University of Wisconsin, UW Health, as vice president of facilities and support services.
He recently earned a doctorate in business administration from the University of Wisconsin-Whitewater.
"Ralph Turner brings 32 years of healthcare experience and a proven track record for successful operations," said Dr. Greg Rosencrance, president Cleveland Clinic Indian River Hospital, in a statement. "I'm excited that he will be joining our leadership team, as his extensive knowledge of operations will serve us well."
The COO position as described in a Cleveland Clinic job posting involves working with Rosencrance to develop strategic and operation goals; seeing to it that budgetary goals are realized; aiding in physician integration as the hospital merges into the Cleveland system; and overseeing any capital projects and expansion plans. Cleveland Clinic has committed to $250 million in such projects in Indian River County over the next decade.