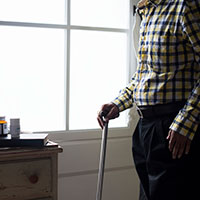 2 Vero nursing homes get worst rating–again
STORY BY MICHELLE GENZ

Two Vero nursing homes were once again awarded one star out of a possible five by Medicare's Nursing Home Compare rating system – the worst possible grade – when the new ratings were published last Wednesday.
Consulate Health Care, sued for negligence two dozen times in a decade, and Palm Garden of Vero Beach, facing a spate of lawsuits itself and starting its fourth month on the state's nursing home watch list, also both got one star in the previous ratings.
Both local nursing homes, part of large for-profit chains, ironically are located virtually  in the shadow of Cleveland Clinic Indian River – a hospital now affiliated with the second-best health system in the world, according to Newsweek's just-released ranking.
Pennsylvania-based Consulate is the sixth largest nursing home chain in the nation and the largest in Florida, where six of its properties, but not the one in Vero, are on the same state watch list as Vero's Palm Garden.
Seven of the Palm Garden chain's 14 locations in Florida received only one or two stars on the Medicare Nursing Home Compare site when the new ratings came out April 24.
"Shame on them. It's not like they're mom-and-pop organizations," said Karen Deigl, who sits on the local Hospital District board. The Hospital District, which levies taxes to pay for care for the poor, tries to keep a close eye on the various agencies that provide it. But Deigl said the complexity of regulation and oversight would make it hard for local organizations to intervene with nursing homes.
The Nursing Home Compare onsite surveys are conducted by Florida's Agency for Health Care Administration, or AHCA. In addition to the AHCA inspections, CMS Nursing Home Compare also considers a facility's level of staffing by calculating the number of nurses available to care for patients at any given moment.
At the Vero campuses, Consulate and Palm Garden each had six fire safety violations in the past year, more than twice the state and national averages. Palm Garden had 23 health violations and Consulate had 16, compared to the state average of 6.2 and a national average of 7.8.
Online records of Palm Garden inspections from January, while redacted in places, referred to a resident in need of help with personal hygiene whose "foul body odor" drew the attention of examiners. They learned the resident had not been bathed for "at least three days," according to the reports.  Another patient was found to be lying in "heavily soiled" linens.
The report also cites inadequate nurse staffing. Inspectors interviewed five certified nursing assistants who said that they were frequently short-staffed. A registered nurse told an AHCA interviewer that only two nurses were on staff per shift on a unit that typically had 65 residents or more.
The report also alleged Palm Garden's pharmacy "failed to ensure adequate controlled medication reconciliation records" for four of 10 residents sampled. Inspectors found inconsistencies in administering controlled drugs, with notes of pills being taken out of storage but not administered to patients.
The same inspection noted smears of a "brown substance" on various surfaces including the bathroom floor, wall and sink counter. It also noted rusted metal supports on the toilet, food waste on the floor, chipped laminate exposing disintegrating particle board and garbage cans with no liners.
Of late, Palm Garden has seen a spike in lawsuits. Court records show it is a defendant in three actions alleging negligence, all filed since February. A fourth suit alleging medical malpractice was filed in May 2018. In that case, a licensed practice nurse at Palm Garden was arrested on felony neglect charges after a resident died of internal bleeding; the charges were quickly dropped though the lawsuit is on-going.
Another Vero nursing home, 110-bed Sea Breeze Rehabilitation and Nursing Center, formerly called Atlantic Healthcare and Rehabilitation, received just 2 stars in the latest ratings and is also on the AHCA watch list.
The citation dates to September and falls under a requirement to have a written emergency management plan, updated annually and tested semi-annually, with results reported to the state's healthcare emergency. Interviewers on site in August determined that there was no documentation that an emergency plan had been approved, and that a plan had been sent in late. That watch status has not been appealed.
Calls were not returned at press time by Consulate or Palm Garden management.