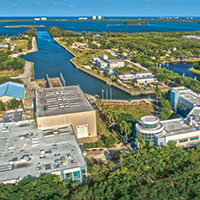 FAU insider: Red ink led to grab for Harbor Branch funds
STORY BY FEDERICO MARTINEZ

Florida Atlantic University officials conspired to take control of the Harbor Branch Oceanographic Institute Foundation's $72 million endowment because its own research division had failed to recruit enough researchers bringing big grants with them and "was operating in the red," according to a former top university administrator.
James Wilkie, who served as Budget Director of the Division of Research and Assistant Vice President of Budget Finance for the Division of Research until February 2018, made the allegation in an affidavit added to Harbor Branch Foundation's two-year-old lawsuit against FAU on May 5.
According to Wilkie's affidavit, Daniel Flynn, FAU's Vice President of Research, began plotting to take control of the Foundation in late 2016 because the University's research division was losing money, and was not going to reach its goal of hiring researchers who could bring with them  $100 million in federal, state, local and private research grants.
"As a result of the failure to hire researchers, the Division of Research was not achieving its budgeted revenue stream," Wilke wrote. "During the latter part of 2016, Dr. Flynn and I discussed that revenues were not sufficient to cover Division of Research expenses, and that the Division of Research was deficit spending, meaning the Division of Research was operating in the red.
"In late 2016, and early 2017, Dr. Flynn told me that he wanted more control over the Harbor Branch Foundation's funds so that they could be deployed to help Dr. Flynn achieve the $100 million goal faster," Wilkie wrote.
"Dr. Flynn told me he intended to have the President of the Harbor Branch Foundation removed, because she was a barrier to his ability to get to the Foundation's funding. Dr. Flynn also said he intended to remove the Harbor Branch Foundation's attorney, since he viewed the attorney as someone who would keep the Foundation independent from FAU . . . and to have the Foundation's administrative and accounting functions transferred to FAU."
At the time, Flynn claimed his takeover move was motivated by a desire to reduce accounting, legal and other administrative costs, resulting in a projected annual savings of $416,000.
"FAU does a fine job proving staffing and services to its other ... [Direct Service Operations], some of which are far more complex than . . . [Harbor Branch Oceanographic Institute Foundation]," he wrote in an email.
When Harbor Branch administrators and board members resisted his efforts, Flynn tried to achieve his goal as a fait accompli, according to the Foundation's lawsuit:
"At a January 24, 2017 Foundation board meeting, Dr. Flynn announced that all the Foundation's administrative functions would be transferred to FAU.
This included the Foundation's legal, audit and accounting, development, communications and clerical support. Dr. Flynn said this would result in significant cost reductions in the next budget, but he did not provide any specifics."
Two months later, after failed arbitration, the Harbor Branch Foundation filed its lawsuit to stop Flynn's hostile takeover effort, which it characterized as "a brazen power play."
The Foundation's legal argument rests on the Memorandum of Understanding that laid out details of Harbor Branch Oceanographic Institute's 2007 merger with FAU.
That Memorandum states that "the HBOI Foundation will not become a subsidiary of Florida Atlantic University . . . the current Harbor Branch endowment will remain with the HBOI Foundation . . . [and] HBOI Foundation distributions will be made in the sole discretion of the HBOI Foundation Board of Directors."
Since its inception in the 1970s, Harbor Branch has been devoted to marine mammal and oceanographic research and education. and the Foundation officials fear that mission will be diluted or diverted if Flynn gains unrestricted access to the $72 million endowment.
The Foundation carefully vets research and program grant applications and monitors grant compliance, according to the lawsuit, but if FAU takes over the endowment, "the Foundation's grant functions would be controlled by the very entity that receives the grants, raising inevitable conflicts of interest and the appearance of self-dealing."
Katha Kissman, Harbor Branch Foundation president and CEO, declined comment and referred questions about Wilke's explosive affidavit to Attorney Joseph Galardi, whose West Palm Beach-based law firm, Beasley & Galardi, P.A., represents the foundation.
"We normally don't comment on pending litigation," Galardi said. "But I think Mr. Wilkie's words speak for themselves."
Attorney Richard Mitchell, who is representing FAU, said he isn't yet able to specifically address Wilkie's affidavit, but characterized the overall lawsuit filed by Harbor Branch as "meritless."
Mitchell, who works for Orlando-based law firm Gray-Robinson, P.A., said the firm will be submitting a written response to the affidavit by May 28, a deadline imposed by the court.
Flynn could not be reached for comment.