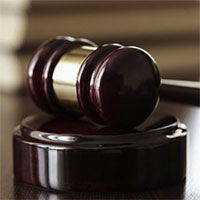 Fletcher charged with aggravated assault
STORY BY LISA ZAHNER

State Attorney Bruce Colton's office has filed a formal information document with the court charging former Vero Beach mayor A. Craig Fletcher with aggravated assault with a firearm, a third-degree felony, but Fletcher maintains he's done nothing wrong, and his lawyer says he'll prove the alleged incident was justified under Florida law.
Fletcher was arrested and charged by police with felony aggravated assault on March 29. The formal information document means the State Attorney's office has reviewed the merits of the case and believes there is enough evidence to bring Fletcher to trial and convict him.
"We have entered a plea of not guilty in the case," Andrew Metcalf, Fletcher's Vero Beach-based defense counsel, said on Monday. "Over the next several months we will be setting depositions in this case and preparing for a potential 'stand your ground' hearing and trial."
Fletcher is accused of answering the front door of his McAnsh Park home with a revolver and pointing it at a landscaping contractor, who had knocked on the door. The alleged victim, Soterios Bouchlas, is a partner in the landscaping company that had been working at Fletcher's next-door neighbor's home when a dispute arose, with Fletcher accusing the landscape workers of damaging flowers on his property.
The state's charging document, signed by Assistant State Attorney Michelle McCarter, alleges that Fletcher "did intentionally and unlawfully threaten by word or act to do violence to the person of Soterios Bouchlas," and "did an act which created a well-founded fear in Soterios Bouchlas that such violence was about to take place," adding that a firearm was involved.
According to records, Fletcher told police he simply wanted the workers off his property and that he didn't know who Bouchlas was or why he was banging on his door.
Bouchlas and his business partner say Bouchlas ran off the porch in response to Fletcher's alleged actions and obscenity-laced verbal threats. No bullets were fired and by the time police arrived, Fletcher had returned the firearm to a bedroom in his home.
Exactly who felt most threatened, scared or unsafe – 77-year-old Fletcher in his home with his wife Arlene in the house, or Bouchlas standing on the Fletchers' front porch – may turn out to be the big question in the case if Metcalf does pursue a "stand your ground" defense.
What's commonly referred to as the stand your ground law is Florida Statute Chapter 766 entitled "Justifiable Use of Force," which describes in detail situations in which a person accused of threatening or harming another can claim he or she acted in self-defense.