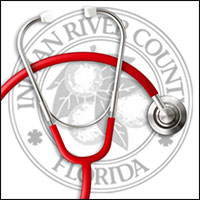 Health Department to stop providing primary care
STORY BY MICHELLE GENZ

The Health Department of Indian River County will cease providing primary care and dental care at its main office at the county administration complex – as well as at the Gifford Health Center – effective August 15.
The department will continue providing other public health services, including in the areas of HIV/AIDs, infectious diseases, WIC (Women, Infants, and Children), family planning, STDs, school health and community education, among others.
The Health Department's director, Miranda Hawker, called her department's provision of primary care "unsustainable" after funding cuts to county health departments statewide.
In addition, Medicaid reimburses county health departments at a lower level than other low-cost clinics receiving federal grants. And, unlike those clinics, the Health Department isn't allowed to seek philanthropy dollars.
Hawker said that, going forward, "TCCH (Treasure Coast Community Health), Whole Family Health, and the VNA will provide [primary and dental care] services to our clients."
The Health Department is the county division of the Florida Department of Health that in turn reports to the federal Centers for Disease Control. Locally, it has long received some money from the Hospital District. But a 2016 change in funding methodology resulted in a 60 percent cut in that funding, according to the Health Department.
In early 2018, Indian River's Health Department cut 21 positions, and in February Hawker told the Hospital District board that her department would soon stop providing primary care and most other types of healthcare services at the Gifford Health Center, which the department had long operated.
At the time, though, it wasn't clear that the Health Department would cease providing primary care at its main location, too, as well as ending dental care.
Last month, a report by the health policy group, Trust for America's Health, claimed that from 2008 to 2017, 55,000 positions had been slashed at the local level nationally in public health, and said the sector as a whole is underfunded and woefully unprepared for emergencies such as disease epidemics, extreme weather disasters or the current opioid crisis. 
According to Florida Trend, between 2010 and 2018, funding for Florida's county health departments was cut by 10 percent. Workforces were cut by 27 percent during the same timeframe, as former Gov. Rick Scott exerted his influence to shift medical care from the public to private sector.
The Health Department's withdrawal from the Gifford Health Center has left the future of the clinic unclear.
Treasure Coast Community Health and Whole Family Health have submitted proposals to run the Gifford clinic. A recommendation by a Hospital District-appointed committee was expected to be agreed upon Wednesday following a final meeting with Gifford community members. The full Hospital District Board plans to vote on the matter May 28.