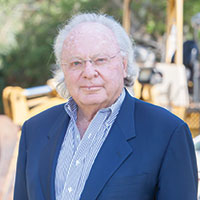 Prison stay ending, but sentence not over
STORY BY LISA ZAHNER
Photo: George Heaton

Vero Beach Hotel & Spa founder George Heaton's six-month stay in a federal facility is coming to an end, but a three-year period during which he must satisfy obligations to the court, to banks and to "condotel" owners is just beginning.
According to Federal Bureau of Prisons records, the 75-year-old developer is scheduled for release from a Miami halfway house on June 1, though sources say he has already been seen in Vero Beach, attending a mediation session in a civil lawsuit brought by plaintiffs who own condo units at the hotel.
As part of a plea deal that included his testimony against co-defendants, Heaton in 2018 was convicted of providing false statements related to mortgage transactions that enabled construction of the hotel to continue during the housing downturn.
According to prosecutors, Heaton, his bookkeeper, his attorney and other associates falsified loan applications and other documents so buyers could qualify to purchase units at the Vero Beach Hotel & Spa between 2006 and 2009, when the hotel was under development.
Heaton needed to show a certain number of condo sales in order to get construction financing released for the luxury hotel and condo property on Ocean Drive, so he secretly and illegally assisted buyers, according to the government. The scheme involved inducements of cash to the buyers that was refunded after closing, but listed on loan documents as down payments, overstating the buyers' investment in the transactions.
Last August, Heaton was sentenced to six months in prison, beginning in December. His sentence also included 36 months of supervised release, community service and more than $1.3 million in restitution to banks harmed by the fraud.
The court ordered Heaton and his associates to jointly pay Oculina Bank $229,517, and Heaton solely to pay J.P. Morgan Chase $361,450. Heaton must also pay $1,038.376 to the Federal Deposit Insurance Corporation and Iberia Bank.
Heaton is restricted from doing things like owning a gun or associating with known felons for three years, and he must report details of any business dealings to his probation officer.
Further, the judge said Heaton "shall participate in speaking engagements regarding his role in the offense conduct 5 times a year during the time of the supervised release" and the general federal release provisions require him to "work regularly at a lawful occupation."
If that work, or those speaking engagements take Heaton out of the U.S. Courts' district– roughly Key West to the Sebastian Inlet – Heaton will need to get permission to travel.
Though Heaton's scheduled date of release from the Miami Residential Re-Entry Facility is shown as June 1 on Federal Bureau of Prisons inmate records, he attended a court-ordered mediation in a civil suit on May 10 in Vero Beach before mediator H. Randal Brennan.
The lawsuit was filed in 2015 by condo owners at the Vero Beach Hotel who claimed that Heaton did not pay them their fair share of the proceeds when their units were rented out, prior to Heaton turning the condo association over to the owners.
Attorney Lewis Murphy filed a notice of settlement with the court on May 13 and Brennan informed the court on May 15 that "the case was completely settled." However, a final order has not yet been entered, so the terms of that order are unknown.
According to Vero Beach attorney Louis "Buck" Vocelle, one of Heaton's attorneys in the civil matter, "Ownership of the hotel has not changed." The hotel is still owned by several Heaton family LLCs. It is managed by the Kimpton Hotel & Restaurant Group.