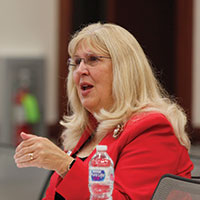 School Board hires Susan Moxley as interim superintendent
STORY BY FEDERICO MARTINEZ

The Indian River County School Board voted unanimously to hire Susan Moxley as the district's interim superintendent during a special board meeting on Monday afternoon.
Board Vice Chairman Tiffany Justice made the motion to hire Moxley, which was seconded by board member Jacqueline Rosario.
"I think Dr. Moxley will do great things for us," Rosario said. "I'm looking forward to working with her."
Moxley served for a decade as a Florida school superintendent before retiring two years ago.
The board is expected to approve Moxley's contract during its Tuesday evening business meeting. Terms of the contract already pre-approved by the board include an annual salary of $161,000 – the same salary paid to Superintendent Mark Rendell, who will officially step down on May 24.
Board Chairman Laura Zorc said Moxley will serve as the interim superintendent for six to 12 months, which will give the board time to launch an extensive search for and hire a permanent superintendent. Moxley is expected to begin work at the district on May 20, which will give her a few days to become familiar with the district's operations before Rendell departs.
"I'm looking forward to working with the School Board and everyone in the district," Moxley said after the vote. "There has been a lot of [staff] turnaround," she added, referring to the high number of teachers who have left the district in recent years. "We need to rebuild trust in the district, develop better continuity and get everyone back on the same page."
Moxley was one of 48 candidates who applied for the interim position which was posted for only one week. The job attracted candidates from around the country and the board worked quickly and effectively to review dozens of resumes and zero in on the top candidates.
The need for an interim superintendent became urgent after Rendell submitted his 30-day resignation notice on April 24. Florida school districts are required by state law to have an interim or permanent superintendent in place at all times.
Rendell, who served as superintendent for four years, is leaving to become the new principal at Cocoa Beach Jr./Sr. High School in Brevard County.
Strapped for time, the board met with the Florida School Boards Association to help fast-track the process for hiring an interim superintendent.
The high level of interest in the position was an unexpected, happy surprise for board members and the FSBA, which had earlier predicted the district would likely receive only two or three applications, due to the short deadline.
"We were pleasantly surprised," said Bill Vogel, a consultant for FSBA, who noted that many excellent candidates applied. "It just goes to show you how attractive Indian River is as a county."
Board members met Friday to select their three top candidates, which turned out to be James Parma, Genelle Zoratti Yost and Moxley, all of whom have superintendent experience. The three candidates were interviewed by the board on Monday morning, leading up the vote to hire Moxley.
Moxley has been an educator for 35 years, serving as principal at several elementary and high schools, as an associate superintendent for the Orange County Public Schools in Orlando, and as superintendent of Lake County Schools in Central Florida from 2008 to 2017, when she retired.
Moxley told Vero Beach 32963 that budgeting issues, improving student achievement and developing a better team atmosphere in the district are her top three priorities.
Her goal for the first seven days is to meet with the board as a whole and individually, in part to review the district's current strategic plan and see what is still relevant.
Also on her agenda are meetings with administrators and community leaders and visits to all of the district's schools. She plans to spend her evenings studying reports that outline the district's finances, current academic programs, and achievement levels.
Justice said she was impressed with all three candidates, but preferred someone with experience serving as a superintendent in Florida.
She added that "[Moxley's] willingness to develop a transition plan for the superintendent [who will succeed her] really impressed me."