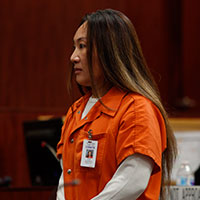 Vero Beach spa worker accused of prostitution remains in jail on $150,500 bond
STORY BY FEDERICO MARTINEZ
Photo: Yan Xu in court.

A 51-year-old woman arrested in Vero Beach for prostitution in February will remain in jail on a $150,500 bond for the time being.
Circuit Court Judge Daniel Vaughn on May 15 postponed a decision on a motion to reduce bond for Chinese national Yan Xu to give her attorney, James Long, an opportunity to locate Xu's sister.
"I have a younger sister who lives in [Los Angeles, California]," Xu told Vaughn through a translator. "I don't have phone number or address."
Vaughn indicated he might consider reducing the bond so that Xu can get out of jail if her attorney can locate the sister and the sister agrees to let Xu live with her while she awaits trial.
When Vaughn asked Xu if she had enough money to pay a reduced bond of $100,000, she laughed nervously and responded in broken English, "no, no, much too high."
Xu told Vaughn that she has between "$3,000 to $4,000" in her savings account. She said her sister might be able to contribute "a couple of thousand" dollars.
Xu was arrested Feb. 19, following a two-month investigation of East Spa at 2043 14th Ave. by the Vero Beach Police Department.
According to a police affidavit, Xu was observed on video surveillance cameras engaging in 16 separate sex acts in exchange for money between the dates of Dec. 3 and Jan. 2.
Xu, who is from China, is facing two felony charges – racketeering and Deriving Support from Proceeds of Prostitution. She has also been charged with engaging in prostitution, a misdemeanor. She pled not guilty to the charges on March 27.
Xu admitted to Vaughn that she has been living illegally in the U.S. for five years, "but would like to seek asylum here."
Police investigators initially claimed the spa operators were involved in human-trafficking, but only one female prostitute arrested has claimed she was being held against her will.
Xu told Vaughn during the hearing that she was working and living at the 14th Avenue spa. She also told Vaughn that she has worked as a prostitute throughout Florida, but could not name the cities.
The video footage used to charge Xu was suppressed by a county court judge last week. The judge said the footage could not be used as evidence against the men arrested for soliciting sex at East Spa because the warrant that allowed the surveillance was improperly executed.