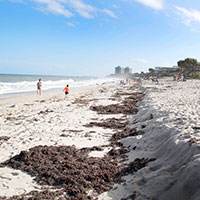 Vero's beaches to finally get infusion of sand
STORY BY LISA ZAHNER

The City of Vero Beach's eroded shoreline will be getting a major infusion of sand this fall – from Tracking Station Park all the way to Castaway Cove – partially paid for by funds included in the $91.1 billion budget approved last week by the Florida Legislature.
If Gov. Ron DeSantis does not veto the line item in the budget, County Administrator Jason Brown said the county will receive $1.7 million in state funding, which will help pay for the engineers, biologists, miners and truckers needed to add sand to beaches and dunes all along the city's oceanfront.
Brown said FEMA has committed $931,448.63 to the project.  The county will fund the balance of the expected $4.8 million cost.
Vero is prohibited by charter from using its own dollars for anything but emergency dune repair after a storm as a result of a referendum in the 1980s. But the county collects bed tax money from hotels within the Vero city limits and uses part of those funds for beach sand replenishment projects up and down the island, including in Vero Beach.
The last big erosion-control project completed in the county was roughly from Windsor to John's Island. The Vero project has been delayed several years due to lack of funding.
Work on the beaches is slated to begin shortly after Oct. 1.
Design and permitting can start prior to that date, but crews cannot place equipment on the beach until Oct. 1, after the end of the sea turtle nesting season.
County officials said several of Vero's public beach parks will be used as construction staging areas, but the contractor – who should be on board by July or August – will determine the schedule and which beaches might be closed or have limited access.
Neighboring residents and businesses will be notified of the approximate start date and duration of the construction a couple months prior to rolling the trucks, according to county officials.
Mayor Val Zudans said the boost for Vero's beaches is important to the local economy.
"Think about our beachfront hotels, restaurants and quality of life for local residents dependent on the quality of our beaches," Zudans said. "This funding is good news for Vero Beach – it's in the town name."