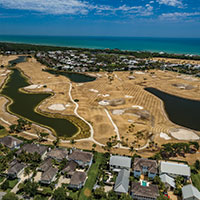 Windsor golf course, grass gone, being restored to Robert Trent Jones design
STORY BY RAY MCNULTY

While last weekend's rains greened-up much of the barrier island, things are pretty brown these days at Windsor.
Most of the grass on the club's golf course has been "scalped away," as a first step in restoring the course to the original Robert Trent Jones design.
"The course is almost 30 years old and, over time, the original design changes as a result of the maintenance," Windsor General Manager Bob Gallagher said. "Typically, the greens get smaller as you cut the fringes. The fringes then get longer. Even the shapes of the bunkers change as they break down.
"So we're not redesigning the course," he added. "We're not adding any new design features, other than a few forward tees for family play, which won't impact the layout at all. What we're doing now is restoring the original footprint of the course, as it was designed."
Gallagher said the course also will be re-surfaced "wall to wall" with Celebration, a drought- and shade-tolerant grass, and with "tried-and-true" Tiff Eagle Bermuda grass on the greens.
In addition the out-of-bounds areas will be "tightened up" and more natural waste areas will be created to make the course more maintenance-friendly.
"We have a very large course," Gallagher said. "It was built big, and this will allow for more sustainable maintenance."
Gallagher would not divulge the cost of the restoration project, which began April 1 and is expected to be completed before Nov. 1.
Though Windsor's course sees few golfers during the summer months, the pro shop has made reciprocal agreements with other local clubs – including Orchid Island, Bent Pine and Indian River Club – for members who want to play.
"We're very friendly with the other pros," Gallagher said. "Of course, we'll return the favor when their courses are being renovated."