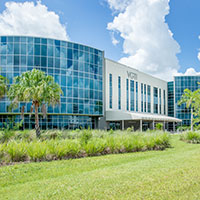 Cleveland Clinic takes over nearby research center
STORY BY GEORGE ANDREASSI

Cleveland Clinic Florida's takeover last week of the former Vaccine & Gene Therapy Institute in western Port St. Lucie capped an amazing year of expansion in Florida for the world famous medical center.
The 107,000-square-foot building at 9801 SW Discovery Way, which will be renamed "Cleveland Clinic Institute for Research," was Cleveland Clinic's third major acquisition on the Treasure Coast this year.
On Jan. 1, the Clinic took over Indian River Medical Center and Martin Health System, including its flagship Tradition Medical Center, near the VGTI lab.
"Cleveland Clinic is committed to expanding clinical research capabilities in the Florida region by creating a translational vaccine and immunotherapy institute that will advance therapies in many areas such as cancer, neurosciences and infectious diseases," Angela Dickens, vice president of marketing for Cleveland Clinic Indian River Hospital, told Vero Beach 32963.
The 7-year-old high-tech laboratory will be the Clinic's first research facility outside of the Lerner Institute in Cleveland and accommodate partnerships with Florida International University and Vaxine Ltd., of Perth, Australia.
The Clinic envisions hiring 200 scientists in conjunction with FIU and Vaxine to develop therapies for cancer, allergies, infectious diseases and neurological issues.
Cleveland Clinic's goal is to develop therapies that improve patient care at hospitals on the Treasure Coast and throughout the world, said Rob Lord, president of Cleveland Clinic Martin Health System.
"When you're involved in research to cure diseases, to improve our ability to treat a variety of illness, it benefits everybody in the world," Lord said after the Nov. 12 Port St. Lucie City Council vote.
"But the big effort is the recruitment of scientists and researchers to seek out cures to diseases, develop vaccinations, conduct transformative research that we can move from the research bench to the patient bedside," Lord said.
Cleveland Clinic anticipates holding an educational symposium at the lab this year to show off the facilities and recruit researchers, Lord said.
Florida International University, which is working toward a takeover of the neighboring Torrey Pines Institute for Molecular Studies early next year, also figures to have a significant presence in the former VGTI lab, Lord said.
FIU's Herbert Wertheim College of Medicine and Biomedical Engineering Department are among the university's branches that could send researchers and students to the lab.
"Florida International University is interested in conducting research there," Lord said. "It will help us offer educational opportunities as well. We see having Ph.D. students and the like working in this building."
Cleveland Clinic agreed to lease the building for $1 per year, records show. The Clinic also has the option to purchase the laboratory for $14.5 million.
Cleveland Clinic will acquire the building for free if it creates 200 new jobs in the next five years, records show. Cleveland Clinic and the city would split the net proceeds if the health giant later sells the laboratory.
Cleveland anticipates the payroll for 100 scientists would amount to $5.5 million per year.
It would swell to $11 million per year for 200 scientists.
Staffing the lab with research scientists would fulfill Port St. Lucie's goal of establishing a research hub in Tradition Center.
VGTI Florida failed in October 2015 as a result of the Great Recession and the loss of National Institutes of Health research grants.