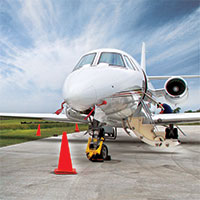 Corporate Air expanding again to keep up with increased general aviation traffic
STORY BY NICOLE RODRIGUEZ

Corporate Air is expanding again at the Vero Beach Regional Airport, trying to keep up with increased general aviation traffic carrying passengers to or from the island.
The flight service company – which provides fuel, maintenance, storage and other services to private planes – broke ground last week on a $2.6 million ramp and two 12,000-foot hangars to meet increased demand for space.
The private jet travelers who use these facilities predominantly live on the island, said Corporate Air founder and owner Rodger Pridgeon.  "They're mostly John's Island, Windsor, Moorings  and Riomar residents."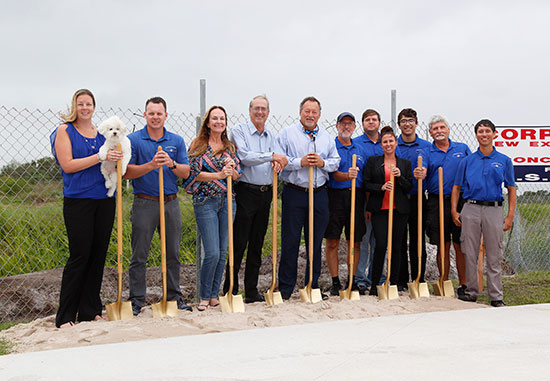 The latest investment comes on top of a multimillion expansion in 2018 that included construction of a new ramp and new hangar outfitted with luxury amenities.
Pridgeon, who has been in business at the airport for more than 30 years, said air traffic doubled over the past year, necessitating more landing and storage space. The additional hangars can house roughly five mid-sized jets each, he said. The project is slated for completion in March.
Looking ahead, the company plans to cover the cost of a 4,000-square-foot, $2-million customs facility for the airport if the project is approved by the federal government.
The addition of a customs facility, which local lawmakers have lobbied hard for with the state and federal governments, would allow international flyers to bypass customs checks at Treasure Coast International Airport and Business Park in Fort Pierce and fly directly into Vero.
Currently, flights from out of the country bound for Vero have to land in Fort Pierce first, clear customs and then take off, fly to Vero and land a second time, an expensive, time-consuming process that costs a typical Gulfstream owner $1,500.
An average of 50 to 60 foreign flights a month to Corporate Air in Vero must clear customs at another airport, and Pridgeon, airport officials and local lawmakers believe a custom's facility here will increase international traffic considerably.
"Vero Beach is a unique town. It has real quality people," Pridgeon said. "I've lived here the last 40 years and I can see the positive growth that's happening."
Vero Beach Vice Mayor Tony Young – who has since been chosen as mayor – attended the groundbreaking and applauded Corporate Air for the expansion.
"It works hand-in-hand with the fact that we want to be a place that people love to come to," Young said.