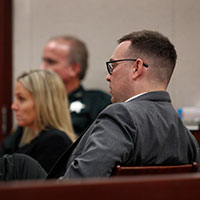 Jones confessed Duve slaying to defense witness
STORY BY LISA ZAHNER

Michael David Jones, convicted four weeks ago of the slaying of nurse Diana Duve, confessed the killing to a medical expert who testified in his defense and "also said that he put her in a trunk and left her in the parking lot of a Publix," the witness testified at Jones' sentencing hearing.
The jury deciding whether to sentence Jones to death or life in prison had not rendered a verdict by press time Tuesday, but after long days of tedious medical testimony, they heard this surprise unscripted statement during cross-examination of a defense witness, Dr. David Ross.
Radiologist Ross said he found Jones had brain damage and gave his take on Jones' mental state at the time of 26-year-old Duve's death in June 2014, saying, "He was drunk, he was brain damaged and he committed a violent act."
Ross characterized Jones as having what doctors previously called "Episodic Discontrol," which he said means "where people are going to act out of uncontrolled urges" but he caged that by saying it's episodic because it doesn't happen all the time.
"The bottom line is it's a troubled life," Ross said, adding that evidence that points to Jones' brain damage would explain why Jones' life was so troubled.
During the cross-examination of Ross, Chief Assistant State Attorney Tom Bakkedahl asked the radiologist  what he had found out from Jones about the death of Duve, and Ross said Jones admitted the crime to him. "He said that he killed her. He also said that he put her in a trunk and left her in the parking lot of a Publix."
Bakkedahl pressed Ross to say whether Jones admitted to strangling Duve or to beating her to death or killing her by some other means, and Ross said he did not exactly remember. Ross said he had not brought his notes or his laptop computer containing his notes to court because nobody told him to bring them.
Jury members who for the past week and a half have sat through testimony by a parade of highly qualified, board-certified, widely published medical doctors and clinical psychologists might now know a whole lot more about the human brain and psyche than they did before.
These medical experts testified that Jones suffered from brain damage from multiple blows to the head in his young life. Records of concussions or other head trauma from Jones' motocross days, from playing football as a kid or from a couple of car crashes are not available because doctors and hospitals are only required to keep records around for a maximum of seven years.
But the doctors testifying for the defense opined that any or all of these experiences left Jones' brain damaged.
Radiologists and neuroradiologists interpreted CT scan, PET scan results and other testing to say that Jones' frontal lobe which regulates decision making and impulse control were affected the most.
Dr. Joseph Wu from California who specializes in chronic traumatic encephalopathy – the degenerative brain malady most people associate with pro football players – testified that Jones shows the precursors or early signs of the CTE disease.
But one of the prosecution's medical experts, Dr. Lawrence Edward Holder, a former American Board of Radiologists Board member affiliated with the University of Florida Medical School, testified that a PET scan is not an accepted tool for clinical of behavioral brain damage.
Jones' family and childhood experiences were dissected just like his brain.
One doctor would not venture to diagnose Jones with Post-Traumatic Stress Disorder, but said that Jones growing up with a controlling father who had a hot temper had left him seriously traumatized.
Jones also modeled his father's controlling, violent behavior in his own close intimate relationships, doctors said.
Three more medical witnesses for the prosecution were set to take the stand this week and presumably rebut the testimony of the defense's medical witnesses, so the taxpayers get to foot the bill for doctors arguing with each other about whether any of these suppositions and diagnoses mitigates Jones' crime.
At a rate of $200 to $400 per hour, these physician-witnesses for hire bill for fractions of hours like lawyers do. Most run the meter from the time they leave their front door until the time they return, with Florida owing them tens of thousands of dollars by the time a murder sentencing is complete.
The only irrefutable evidence produced by any of these experts is that the expert medical witness business as it relates to Florida's death penalty is extremely lucrative.