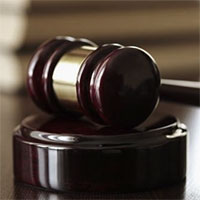 Local ISIS supporter who threatened attacks in Vero unfit for trial
STORY BY NICOLE RODRIQUEZ

A local ISIS supporter who threatened attacks in Vero Beach to gain notoriety as the world's first deaf terrorist to inflict casualties in America has been deemed unfit to stand trial.
U.S. Magistrate Judge Shaniek Maynard declared Charlton La Chase, 29, incompetent to participate in court proceedings after reviewing a psychological evaluation performed earlier this year on the Fort Pierce resident.
La Chase, who was arrested in late May hours after his release from a federal prison in Georgia where he served time for prior threats of mass murder, has several mental disorders, a court-appointed psychologist concluded.
"The defendant is presently suffering from a mental disease or defect rendering him mentally incompetent to the extent that he is unable to understand the nature and consequences of the proceedings against him or to assist properly in his own defense," Maynard wrote after reviewing La Chase's mental health evaluation.
Shana Williams, a forensic psychologist fluent in American Sign Language, in July evaluated La Chase and determined he suffers from Bipolar I Disorder with psychotic symptoms and possibly other mental disorders, according to federal court documents. Williams also concluded La Chase experiences "persistent delusional thinking and paranoid processes" that leave him unable to assist his counsel in his defense.
Bipolar I Disorder is marked by weeks-long, full-blown manic or depressive episodes so severe the condition requires immediate hospital care, according to the National Institute of Mental Health.
The May arrest came after La Chase emailed his sister a threat promising to carry out an attack along I-95 in Vero Beach. He was charged with transmitting an interstate or foreign commerce communication containing a threat to injure another person – a crime punishable by up to five years in prison.
La Chase was initially arrested by the FBI last year and charged with several counts of transmitting threats through interstate or foreign commerce. He pled guilty in July 2018 to two counts and was sentenced to 18 months in prison and three years of supervised release in which he was required to undergo mental health treatment. He was also ordered to stay away from his sister, a Port St. Lucie resident.
Before his 2018 arrest, La Chase, who is deaf and also suffers from degenerative blindness, threatened to "behead" his sister and her two small children while also proclaiming his hope to "be the first deaf person to create American casualties in the name of ISIS," according to federal court documents.
The court has ordered La Chase to be hospitalized in a federal medical center in North Carolina to undergo treatment for four months to determine if there is a probability he will regain his ability to stand trial.
La Chase, who was previously incarcerated in the St. Lucie County Jail, is currently in a Miami federal detention center awaiting his transfer to North Carolina, his mother, Santa La Chase, said.
"I don't wish this on any mother in the world to be in my shoes," said La Chase, who is relieved her son will be receiving psychiatric care. "It's very, very, very hard."