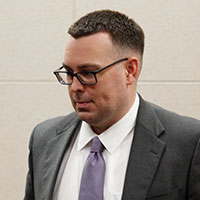 Mental health testimony seen key in sentencing of Jones
STORY BY LISA ZAHNER

When jurors return to court next Wednesday to decide whether convicted killer Michael David Jones will be sentenced to death or to life in prison, the defense team is expected to focus on Jones' shaky mental health – but jail records show Jones has been a model prisoner.
At least two medical experts have examined Jones and will testify about mitigating factors that might help explain what was going on in Jones' head around the time that 26-year-old Moorings resident and Sebastian River Medical Center nurse Diana Duve was killed in June 2014.
A hearing about medical experts last week – with the jury not present – suggested Jones' lawyers may claim he suffered some sort of blackout. A doctor is set to testify that Jones has brain damage which affects his behavior and impulse control.
Two days after Duve's death, Jones went from working in his Ocean Drive PNC Wealth Management office and enjoying business lunches and cocktail hours to living in a jail cell, eating meals served on mess hall trays and being told which days he can shave and shower.
Only three friends have visited Jones in jail over the past five and a half years, and he's had no visitors other than his attorneys and expert medical witnesses since December 2017.
Jones spends his days with dozens of men accused of violent crimes. When it's lights out in Jones' cell, he's been forced to bunk at various times with five men accused of murder, plus others facing charges of attempted murder, dealing drugs, domestic violence, armed burglary and child abuse.
A reasonable person might conclude that if Jones suffers from mental illness, this complete lack of control over his life, possibly coupled with loneliness or a sense of abandonment or betrayal, might have set off some violent or unpredictable behavior – especially if he has brain damage affecting his impulse control.
But Jones seems to have handled his circumstances without outward difficulty.
According to information obtained in response to a public records request filed by Vero Beach 32963, inmate Jones has fit in and gotten along with "no disciplinary infractions" while in the Indian River County Jail.
The details of Jones' medical records and psychological evaluations are protected by privacy laws and to an extent by attorney-client privilege, so it's unknown what if any medications he's been taking, but his past transports within the jail and in and out of jail are public record.
Jones has only been transported to the jail's medical wing twice – once for a routine intake psychological exam and once in July 2014 for "a medical reason."
He has not been on suicide watch, except briefly as part of jail protocol on June 26, 2017 "when retuned from Broward County Jail – psychiatric assessment needed at our facility before placed in general population due to seriousness of charge."
The conclusion of Jones' murder trial turned into a battle of medical experts with conflicting testimony about Jones' mental state. Since the sentencing phase of his trial also will likely hinge on medical testimony, prosecutors were hoping to match the defense's two expert witnesses – a forensic psychologist and a neuropsychologist – with its own duo of experts in the same fields.
One expert, Dr. Michael Gamache, would address both the alleged brain damage the defense says Jones has, and a second, Dr. Michael Brannon, who has already examined Jones, would testify to whatever mental illness Jones might claim to have had at the time of the crime.
Unfortunately for the prosecution, Judge Dan Vaughn ruled that state law as written only provides for one mental health evaluation by the state – a point successfully argued by Assistant Public Defender Stanley Glenn last week.