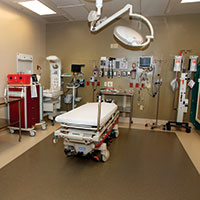 New Lawnwood Hospital ER set to open in south Vero Dec.4
STORY BY MICHELLE GENZ

Starting the middle of next week, some local residents in need of emergency medical care will have a new 24/7 option available toward the southern end of Indian River County.
Lawnwood Regional Medical Center, a Level II trauma center in Fort Pierce, has spent the past year building a satellite freestanding emergency room in Vero Beach. The $10 million facility, near South Vero Square at Oslo Road and U.S.1, is expected to open Dec. 4.
Last week, officials were still waiting for signage, with nothing more than red block letters marking the ambulance entrance hinting at the purpose of the beige single-story structure. Inside, an equally unadorned waiting room is smaller than the average private practice physician's office. That's because arriving patients will be taken to an exam room immediately after checking in.
There are 10 such rooms at the new Lawnwood ED, including one equipped for pediatric patients. There's also a large resuscitation room where multiple practitioners can tend to a severely ill patient, along with a secure "safe" room for mental health emergencies.
The facility has a lab, and is equipped with CT scan, X-ray and mobile ultrasound equipment; images will be read remotely by radiologists at Lawnwood in Fort Pierce.
There will always be one physician onsite in Vero, with doctors on rotation from the Fort Pierce hospital's ER. As things get busier, a nurse practitioner or physician assistant may be added, according to a spokesperson. In addition, the staff includes 12 registered nurses, most recruited from other HCA hospitals.
The clinic, built by Proctor Construction, is in the southeast corner of the county near a corridor of considerable residential expansion. When the ED opens, south county families and retirees will be closer to emergency care, and people throughout the county will have a round-the-clock alternative to the ERs at Cleveland Clinic Indian River Hospital and Sebastian River Medical Center.
Freestanding EDs have proliferated in recent years, with HCA – Lawnwood's parent company and the largest publicly traded health system in the country – having 199 such facilities. The Vero center is HCA's third freestanding ED to open this year and plans for a fourth were just announced.
In all, there are 67 freestanding EDs in Florida, with the first opening in Ocala in 2002. The Treasure Coast's only other freestanding ED was built in St. Lucie West in 2008 by what was then Martin Memorial Hospital. That hospital is now owned by Cleveland Clinic Florida, acquired last year as part of the Martin Health system.
With HCA losing out to Cleveland Clinic in its bid to take over Indian River Medical Center, the new Lawnwood ED marks the for-profit hospital operator's first physical presence in Indian River County. A spokesperson declined to comment on any plans to one day own a hospital in the county.
Emergency rooms attached to hospitals are a key driver for in-patient admissions. While freestanding emergency departments claim to relieve overcrowded hospital ERs, it's not clear local hospitals are asking for help.
Cleveland Clinic Indian River says ER visits are up 4 percent this year, but Sebastian River Medical Center's ER visits were down nearly 25 percent in the first quarter, as compared with the same quarter last year. Those were the latest figures available from the state; Sebastian River did not respond to requests for more recent figures.
And while some hospital emergency rooms, including at Cleveland Clinic Indian River, have hired navigators to try to divert non-emergency patients to urgent care centers or primary care providers, Lawnwood has not yet provided guidelines on when to opt for the freestanding ED over urgent care or a hospital ER.
That is an important issue for patients because costs at freestanding EDs are much higher than at urgent care centers and are comparable to costs at a hospital emergency room. Both charge a facility fee; an urgent care center does not.
At the same time, an urgent care center that isn't equipped to deal with a serious illness or injury will end up sending the patient to an emergency department, delaying treatment while the patient potentially incurs fees at both.
MedExpress Urgent Care, just up the road from the new Lawnwood ED, said urgent care centers "are a great option for the unexpected, everyday illness and injury," like a stomach bug, earache or urinary tract infection. "They can also provide more advanced offerings such as X-rays, EKGs, labs, minor surgery, treatment for broken bones and sprains and stitches."
But life-threatening conditions including chest pain, seizures and major head injuries "always require a trip to the ER," the MedExpress spokesperson said.
Still, the Lawnwood facility is not equipped to fully handle all emergencies. If the symptoms or injuries require a specialized medical procedure or major surgery, for example, the patient would be stabilized and taken to a hospital.
Which hospital that would be – Cleveland Clinic Indian River, Lawnwood, or even Sebastian River Medical Center – was still an open question last Friday, though Lawnwood officials stress the patient's wishes come first, provided the patient is conscious and can make those wishes known. Otherwise, the ED's providers will make that decision. Lawnwood Medical Center is 12 miles from the freestanding ED, with a drive estimated at 24 minutes. Cleveland Clinic Indian River is less than half that distance, a 13-minute drive.
"We actually talked about that this morning," said Cheryl Nail, Lawnwood's chief nursing officer, during a Friday tour of the new facility. "That's one of the last pieces we're trying to get nailed down. We have transfer agreements with all the primary hospitals around us. It will probably be on a patient-by-patient basis, depending on the condition of the patient and whether the patient can communicate."