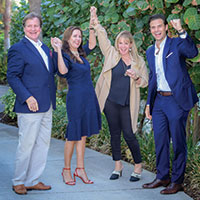 ONE Sotheby's buys brokerage from Thorpes
STORY BY STEVEN M. THOMAS
From left: Brokers Michael and Kimberly Thorpe with ONE Sotheby's Founder & CEO Mayi de la Vega and President Daniel de la Vega. PHOTO BY MARTINA TANNERY

Treasure Coast Sotheby's International Realty, a leading island brokerage that did nearly half-a-billion dollars in business in 2018, has been acquired by ONE Sotheby's International Realty, a south Florida brokerage founded by Mayi de la Vega that handled $2.5 billion in residential real estate transactions last year.
Both parties describe the acquisition in glowing terms as a win-win for all involved. For ONE Sotheby's, the deal, which closed Friday, Nov. 1, extends the rapidly expanding company's reach all the way from its Miami origins into prime real estate markets in Indian River and Brevard counties.
"Treasure Coast's knowledge of the Vero Beach and Melbourne markets is second to none, and we couldn't have found a better affiliate to strengthen our forces and expand our presence north," ONE Sotheby's President Daniel de la Vega said.
For Michael and Kimberly Thorpe, co-owner-brokers at the local Sotheby's, the transaction allows them to pass the business they created on to a highly successful company they believe will continue to grow the business and help its 100 or so agents and other employees achieve increased success.
Treasure Coast's two offices, one in Vero and one in Melbourne Beach, will continue to operate in the same locations under the ONE Sotheby's name. The Thorpes will be part of the merged business as broker associates, shifting their focus from business operations to listing and selling homes, something they did successfully while owning the brokerage.
"It is the best possible affiliation we could ever imagine on all levels," said Mike Thorpe, who put the deal in motion a year ago when he called ONE Sotheby's and floated the idea of an acquisition, pointing out how well it would fit into the larger company's expansion plans.
ONE Sotheby's, founded in 2008, had acquired five brokerages in the past several years prior to the Thorpes' business, steadily pushing north along the coast from Miami to Stuart. Bringing Treasure Coast Sotheby's into the fold extended operations 100 miles further up the coast.
"We are Miami to Melbourne now," the company's chief operating officer Michael Koval told Vero Beach 32963 last week.
Mike Thorpe says he reached out to ONE Sotheby's because "after 28 years as a broker and business owner, I was ready for a different lifestyle."
When he told Kim Thorpe what he was thinking, she was resistant at first. "She is younger and hasn't been a business owner as long and was still enjoying managing our marketing department and building a business and being part of the team, so I had to regroup and approach it from another angle," Mike Thorpe said.
"She loves to travel, so when I tried again, I presented it as an opportunity for us to travel more together, which we haven't been able to do much of in recent years."
"We've actually have had to take separate vacations so one of us could be here to take care of the business," said Kim Thorpe, who added that she had a "turnaround" in her thinking partly because of the lure of travel but even more so because "listing and selling homes is my passion, and now we will be able to really concentrate on that."
Mike Thorpe, too, said he recently has found a renewed passion for the basic business of real estate, meeting people and making deals.
Even while running their business, the Thorpes consistently ranked in the top 1 percent of agents in the county, and Kim Thorpe said their personal sales numbers are up 50 percent compared to last year, but both want to do more.
As fellow Sotheby's brokers, the de la Vegas and Thorpes had known each other for a decade before beginning the acquisition process, which got serious over the summer when Koval and ONE Sotheby's chief financial officer began to look at the details of the Thorpes' business and figure out how to fit the two companies together.
The complex undertaking was made easier by the long acquaintance, the respect and admiration for each other's business practices and success that both families express, and by their joint participation in the Sotheby's network and brand.
"Mayi bleeds the blue of the Sotheby's brand, the same as we do," says Kim Thorpe.
Koval says ONE Sotheby's agents in Vero and Melbourne Beach will benefit from the company's greater "operational capacity," including a much larger marketing department, more sophisticated technology and a wider network of offices to generate referrals.
"ONE Sotheby's sets the standard in luxury real estate and we are thrilled to bring their tools and resources to our agents, sellers and buyers on the Treasure and Space Coasts," said Kim Thorpe. "We would not have wanted to be acquired by any other company."
Kelly Martin, whose brokerage in Stuart was acquired by ONE Sotheby's two years ago and who is managing broker for the company's offices in Jupiter, Palm Beach Gardens and Stuart, will be the broker of record for the former Treasure Coast Sotheby's offices.
"She is the perfect person for this, having just gone through the acquisition process herself and come out the other side to have her best and most profitable year ever," said Koval.
ONE Sotheby's was founded by Mayi de la Vega in Miami in 2008, during the onset of the biggest property downturn in history, which gives her and the Thorpes something else besides the Sotheby's brand in common.
Mike Thorpe started in real estate as an agent at Norris & Company on the barrier island in 1979, a hyperinflationary period during which interest rates topped 20 percent, making it very difficult for buyers to finance home purchases. He quickly became a top producer despite the financing challenges and went on to start his own brokerage 10 years later.
Kim Thorpe got her real estate license in 2009, and went to work at Mike's brokerage during the same tough downturn Mayi de la Vega faced. She became Mike's business partner in 2010 when it was still unclear how deep the real estate recession would be or if it would ever end. She listed $17 million her first year, when many agents were leaving the business in despair, and sold $20 million her second year.
"If you can survive those kinds of beginnings, you are almost guaranteed to thrive in good times," Koval said.
That was the case with both companies.
Treasure Coast Sotheby's did about $100 million in business in 2009, the year before Kim Thorpe became a partner, and between them the couple, who later married, more than quadrupled sales over the next 9 years, handling approximately $450 million in real estate transactions in 2018, according to Mike Thorpe.
During the same period, Mayi de la Vega and her son Daniel de la Vega built a business from uncertain beginnings that did $2.5 billion in sales in 2018 and is running about 10 percent above that number so far this year, not counting any sales related to the Treasure Coast acquisition, according to Koval.
Besides its main multibillion-dollar residential real estate business, ONE Sotheby's also has a huge new development wing that controls $3.1 billion in preconstruction and new construction listings, according to the company's website. Koval could not provide a sales figure for that division.