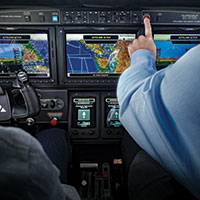 Piper unveils plane that can land at push of a button
STORY BY RAY MCNULTY

A new generation of Piper's top-of-the-line M600 airplane will be equipped with a safety system that will make it the first single-engine general aviation plane able to land without any assistance from a pilot, the Vero Beach aircraft manufacturer announced last week.
Once engaged – either automatically or by a passenger – the HALO Safety System will calculate wind, time, fuel range, glide path, weather conditions and terrain in finding the most suitable place to land.
It then will assume control of all the systems necessary to land the aircraft on the best-suited runway, communicating with passengers and air traffic control facilities to determine new flight-plan routes and estimated time until touchdown.
Once the aircraft lands, the braking system will activate and bring the plane to a full stop. 
The HALO technology is expected to save lives in the event pilots become incapacitated.
Deliveries of the self-landing aircraft, which Piper has been developing and testing for the past three years, are expected to begin later this year through the company's global dealer network. The selling price will be $3 million.
Piper's M600 is a single-engine, pressurized, business-class plane with a range of 1,441 nautical miles.
The six-seat luxury aircraft can fly up to 30,000 feet at a maximum speed of 260 knots or 299 mph.
"The M600 and its HALO Safety System with Autoland is the result of an unwavering commitment to safety, as well as the desire to evolve our products based on market input," Piper President and CEO Simon Caldecott said in a prepared statement.
"The HALO system greatly enhances situational awareness and operational safety through the use of advanced technology and is one of the most significant advancements in general aviation history," he added.
"The team at Piper is proud that they will be the first to market with Garmin Autoland, which will ultimately help pave the way for others."