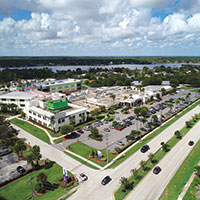 Sebastian River Medical Center a chronic 'late pay,' according to its local vendors
STORY BY MICHELLE GENZ

Sebastian River Medical Center's out-going president, Kyle Sanders, claims patients are finally coming back to the hospital, after state records show admissions last year were at their second-lowest point in a decade.
That turnaround, should it prove true, would be good news for the hospital, one of 36 in a for-profit national chain. But will it mean the hospital will start paying its bills any faster?
According to multiple businesses and government entities, Sebastian River Medical Center has developed a reputation for maddening delays in paying invoices, delays that have agencies issuing fines and vendors refusing them services.
Some vendors say they have considered legal action but are fearful of scaring off new customers. Others say they grudgingly take on new projects for the hospital without having been paid for prior work, including some who say they are owed for work from six months to a year ago or even longer.
After being informed about this story, a spokesman for Sebastian River late Monday acknowledged the slow-pay problem, and attributed it to new owner Steward Health Care's rapid growth and systems integration issues.
"We expect to have these issues resolved and our local vendor partners paid by the end of the year – a process which has already begun," the spokesman said.  "We are also in the process of reaching out directly to impacted vendors to update them on our progress and assure them of our commitment to them."
But it will take considerable reassurance for vendors who, according to state records, in 2018 saw their bills stay on the hospital's books for an average of 102 days. That's a month longer than under Sebastian River's prior owner, and more than a month longer than competing hospitals.
During this period, monthly water and sewer bills also have gotten the brush-off. Since Steward bought the hospital in May 2017, Sebastian River has been late paying the bills more often than they've paid on time. Last month, they were late again. According to county records, 16 months of late fees the hospital has rung up total almost $2,000.
Even the hospital's 2018 property taxes got put on the back burner. They were due last November but didn't get paid until April 9 – eight days after they became delinquent and triggered a $12,000 late fee.
"Hey, but that's OK," joked Debbie Gee of the tax collector's office. "That penalty means extra money for the county."
Online records going back to 2002 show Sebastian River's prior owner, Community Health Systems, or CHS, paid the taxes like clockwork.
CHS has a gripe of its own with Steward not paying on time. The health system, which in May 2017 sold Steward eight hospitals including Sebastian River, has sued Steward for $10 million in costs incurred during the ownership transition. The CHS lawsuit is ongoing in Williamson County, Tenn., a spokesperson said.
Not all the bills are so impersonal. For small business owners, proud of their work and reputations in the tight-knit community of Sebastian, the hospital's delays are a slap in the face, and having to constantly hound the hospital for payment is a thorn in their bookkeepers' sides.
"They are the slowest and the worst," said J.R. Lochmandy of Barefoot Bay, a retirement community nine miles north of Sebastian River and a prime source of patients for the hospital.
Sebastian River regularly runs ads in the Barefoot Tattler, a mom-and-pop paper Lochmandy's parents bought 18 years ago. "They want their end of it taken care of with extreme urgency, and yet my mother has to sit here and hound them for money," Lochmandy said in August.
By mid-September, he was so infuriated by the wait for payment – three to four months at its worst, he says – he contacted the ad agency the hospital uses.
"I can't wait for my money anymore," he told the agency. If he didn't get paid within 30 days of publication, he "couldn't guarantee" their next ad would run. "I said the 30-day countdown clock starts immediately," he said. "She paid me two back invoices that afternoon."
That was Oct. 24. "So this just started," Lochmandy said. "We'll see."
Most small business owners who spoke to Vero Beach 32963 asked to remain anonymous for fear of appearing demanding to current or future customers. Others found the subject too painful to discuss, the debt – which for some ran into the tens of thousands of dollars, according to sources – affecting not only the business and its owner but families and employees.
"It's been an absolute nightmare," said a local entrepreneur who doesn't even look for payment from Sebastian River before four to six months. One sizeable bill languished unpaid for more than a year, though a portion was paid "via insane phone calls."
"I stress over that," the owner said. "These people have not been good at paying."
Another contractor who quit doing work for Sebastian River – he says he "fired" the hospital – said he has never seen an organization of that size delay payment as long.
"When you have to feud and fight with them for over 90 days to get paid, it's not worth working with them when we're so busy," he said. "You've done the work for them, you deserve to get paid."
That contractor is also critical of Steward's decision to bring in a national company, Boston-based Suffolk Construction, to build its $65 million addition, when local commercial builders could have done the job.
"I'm a true believer that this is our community," he said. "Don't hire somebody from out of state. If you're going to be in this community and be a community hospital, don't go out of town to hire your workers. I spend my money in this community, and I want everybody to do the same."
If businesses are upset at being blown off by the hospital, Sebastian River has also missed deadlines filing paperwork with AHCA, the state regulatory agency overseeing healthcare entities.
The hospital was late filing its 2017 audited financial statements with AHCA, due May 30, 2018. After three certified letters, the state finally got the documents in September 2018. AHCA fined Sebastian the minimum amount, $2,040.
In March of this year, Steward was late again filing information with AHCA; this time it was Sebastian River's ambulatory outpatient data. Despite what the agency said were three courtesy reminders sent and "numerous" phone calls, Steward was 11 days late. The fine was $100 a day, for a total of $1,100.
And there was one more incident, also in March. Steward was fined $500 by AHCA for not adding its new CEO, Sanders, to its roster of employees required to be listed in a state background screening clearinghouse.
That won't be an issue going forward. Two weeks ago, Sanders announced his resignation and is leaving the hospital later this month.
For anyone following Steward Health's history, those AHCA fines were a red flag.
 In November 2017, Steward Health sued the state of Massachusetts, its original home base, over the filing of four years' worth of financial statements. Steward has since accrued more than $300,000 in fines, contending the state had no statutory authority to demand the information and had "no apparent will" to keep the documents private.
Last month, the Massachusetts agency equivalent to Florida's AHCA got hold of the financials anyway. The owner of most of the real estate at Steward's 36 hospitals nationwide, Medical Properties Trust, is a publicly traded company, and is required to file financial information with the Securities and Exchange Commission. Those documents included Steward Health's financial statement.