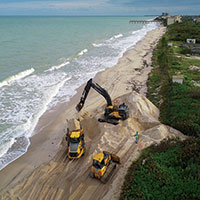 Sand replenishment starts at Tracking Station Beach Park
STORY BY NICK SAMUEL
Photo: Tracking Station Beach Park closed for sand replenishment.

A massive project to replenish sand on Vero's critically-eroded beaches began Monday at Tracking Station Beach Park.
Dump trucks and excavators could be seen at the beach park – which closed Friday – dumping tons of sand for the 3.1-mile project.
The area designated for sand replenishment extends from north of the Seawatch Condos in Indian River Shores south through Central Beach to the Riomar Golf Course.
The $6 million replenishment will infuse more than 200,000 cubic yards of sand along the stretch of beach known as Sector 5.
The project will occur in three phases with Tracking Station Park, Jaycee Park and Humiston Park used as access points for trucks carrying sand onto the beaches as work moves south.
County officials previously said Tracking Station Park would be closed until the end of the year, but the county's new public information officer, Brian Sullivan, said the park now is expected to reopen right after Thanksgiving.
Closure dates for beaches at Jaycee Park and Humiston have not yet been announced.