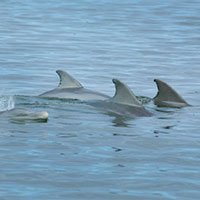 Antibiotic-resistant bacteria found in dolphins in lagoon
STORY BY SUE COCKING

Scientists have found antibiotic-resistant bacteria in a high percentage of bottlenose dolphins living in the Indian River Lagoon, raising concerns of an increased risk to humans who eat fish from the lagoon or come in contact with the water.
Researchers from Harbor Branch Oceanographic Institute and collaborators from other research groups tested bacteria samples collected from the blowholes, gastric fluids and feces of 171 bottlenose dolphins in the lagoon between 2003 and 2015.
Harbor Branch epidemiologist Dr. Adam Schaefer, the study's lead author, said they found a "significant increase" in antibiotic-resistant bacteria in the animals over that period of time.
"The dolphins are acting as a sentinel of what's in the environment," Schaefer said. "It's an early warning system for human health threats in the lagoon. The patterns we see in dolphins mirror patterns we're seeing in human health."
Schaefer said antibiotics themselves or the bacteria that have mutated to resist them are making their way into the lagoon through wastewater discharges, drainage canals or septic tanks. He said sewage treatment doesn't necessarily break down these medications.
Of the 733 samples taken from the 171 dolphins, more than 88 percent were found to contain bacteria resistant to at least one antibiotic. Schaefer said the most common antibiotic to which bacteria found in dolphins were resistant was erythromycin – a broad-spectrum drug commonly used in both human and veterinary medicine.
Resistance to ciprofloxacin by E. coli bacteria more than doubled between sampling periods, reflecting recent trends in human infections, the study found.
"Antibiotic resistance is a global public health threat," Schaefer said. "We wouldn't want to run out of antibiotics that work against bacterial infections."
At least 2 million people contract antibiotic-resistant infections in the U.S. each year, and at least 23,000 people die from those infections. Now, Schaefer says, "antibiotic resistance is not isolated to hospitals and community-acquired cases. It's in the environment."
He said two of the most important ways people can curb this trend is to avoid taking antibiotics when they are not needed and not flush unused medicines down the toilet.
The study, published in the journal Aquatic Mammals, was performed in collaboration with Georgia Aquarium, the Medical University of South Carolina and Colorado State University.