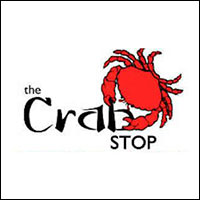 Crab Stop restaurant moving to location of the former Cajun Cove
STORY BY RAY MCNULTY

The Crab Stop is on the move, leaving its 14th Avenue location in downtown Vero Beach this week and reopening next week at Royal Palm Pointe – on the site of the now-closed Cajun Cove.
Crab Stop co-owner Ellis Buckner said the new location provides a back patio in a more-enticing waterfront setting, where the wildly popular restaurant will expand its offerings to include a full liquor bar and dinner service until at least 9:30 p.m.
"The move has a lot of advantages for us, but the key is the location," said Buckner, who, along with his wife Brandy, opened the Crab Stop five-plus years ago, after a heart attack forced him to retire after 25 years as a county firefighter and paramedic.
"People like eating crabs on the water, so that back patio should be a big draw," he added. "We'll also have parking available all around us. With the appearance and size of the building, it's a better fit in every way."
Local commercial real-estate broker Billy Moss said he suggested six weeks ago that the Buckners look at the Royal Palm Pointe property. The deal to purchase the Cajun Cove's equipment, furnishings and liquor license – as well as to lease the building – was finalized in late September.
Buckner said he's planning for a "soft opening" at the new location as early as Monday, Oct. 14.
"When that spot became available, I thought it was a natural for them," said Moss, who also brokered the deal for the Buckners' expansion to Sebastian's scenic riverfront, where their second Crab Stop restaurant replaced Salty's Bar & Grill in early 2018.
"As popular as it was downtown, the Crab Stop belongs on the water," he added. "And the Cajun Cove was a very-well-thought-out restaurant, so most of what they need is already there, including that patio.
"At Royal Palm Pointe, the new location can easily be accessed from both the island and the mainland."
Though the Crab Stop usually stops serving dinner at 7:30 p.m. in downtown Vero, Buckner said he could serve as late as 10 p.m. at Royal Palm Pointe "if the demand is there."