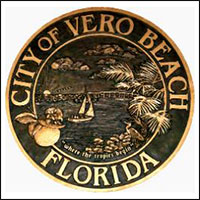 Eight running for Vero Council agree on need for public input
STORY BY NICOLE RODRIGUEZ

The two candidates elected to the Vero Beach City Council next month may well be in a position to cast decisive votes on some of the biggest development decisions that have ever faced the municipality.
The eight vying for two open seats being vacated by Mayor Val Zudans and Councilman Harry Howle largely share similar stances on the process the city should use to redevelop the deteriorating Vero Beach Municipal Marina and the 35-acre riverfront property on 17th Street and Indian River Boulevard commonly known as Centennial Place.
All agree public input is vital to the future of both projects, regardless of their own preferences.
"It could be the crown jewel of the city and my intention is that it shall be," Rey Neville, a barrier island resident and retired Air Force colonel, said of Centennial Place. "And the way we'll arrive at that is through a disciplined and vigorous inquiry of the city of Vero Beach to identify what they think should be done with this wonderful location."
Prominent local attorney and island resident Joe Graves agrees the public must be involved in the planning process.
"My responsibility as a council member is to see that the will of the people is done," said Graves, who has touted being a fiscal conservative. "I'm not coming in with an agenda."
Jeff Nall, an adjunct professor who teaches philosophy and humanities at Indian River State College and the University of Central Florida, joined the race after advocating to keep funding for Leisure Square Pool in the city's budget. The heated debate between the council and public about the pool's closure could have been avoided had the council listened to the public, he said.
Nall would like to avoid another blunder with Centennial Place and the city marina.
"It is absolutely vital that we have substantive and meaningful engagement with the public and that it's not superficial, canned, predetermined or top down led," Nall said, adding Centennial Place should be a destination for all ages and incomes.
The City Council in recent weeks hired Miami-based DPZ CoDesign for consulting services to redevelop the city-owned Centennial Place properties. The firm's six-month plan includes time to analyze the site, hold a "kick-off" presentation to the board in mid-November, formulate a public survey, hold a series of public meetings in January and present a final report summarizing the community's wishes in May.
Bob McCabe, an island resident who unsuccessfully ran for a City Council seat last year, echoed his opponents' sentiment.
"The people in the whole county in this area are the ones who enjoy all of our parks and recreational facilities. It's not limited to those that have a Vero Beach city address. I think we ought to be listening to all of these people and holding public hearings," McCabe said. "And I think the City Council should take a stronger role in the public hearings and not just fend it off to a consulting organization."
Candidates are also concerned about the potential environmental impacts of a marina expansion. The City Council earlier this month decided to move forward with a major revamp and expansion of the shabby marina that could take up to two decades to complete.
The board chose the most dramatic among several possible facelifts for the dilapidated facility, which will include new dockage along the southern shoreline, larger slips, a one-way drive with angled parking near the dog park, an expanded mooring field and a pedestrian bridge from the marina to Riverside Park. Future councils must approve each phase, which could be tweaked, city officials have said.
Neville, Graves, Nall and McCabe agree that major fixes are needed, but they must not damage the ailing Indian River Lagoon.
Candidate Estelle Panagakos – a retired school teacher and probation officer who wants Centennial Place to include ocean-related venues such as an educational science museum, aquarium and a marina with restaurants – is fearful a marina expansion could be ecologically harmful.
"I'm not keen on it yet, because I'm not sure what it entails and if it's going to destroy any plant life and fish or further pollute the lagoon," said Panagakos, who added a revamp is needed.
John Cotugno, who worked in sales and marketing for various companies including Texas Instruments before his retirement, believes the lagoon must be considered when redeveloping both the marina and Centennial Place, which Cotugno thinks will end up being a mixed-use area with ample green space for citizens.
"We have a sick lagoon – a lagoon that needs to be made better. Although those projects seem to have a nice payback, the payback needs to be balanced ... ," Cotugno said. "We can't neglect the lagoon and the environment no matter whatever our quest for city revenue, because the impact of that will be far reaching into the future."
While perennial candidate and former one-term Vero Beach City Council member Brian Heady and Nick Thomas, who unsuccessfully ran for City Council and a seat on the Indian River County Commission in 2012, also believe public input is important, they have more specific plans in mind for both projects.
"My vision is to see the (Centennial Place) property developed into a full-service park similar to our much loved Riverside Park," Thomas, a lawyer, said, adding 'Centennial Park' would be an appropriate name for the prime piece of real estate. "It's time for the mainland to have its own boat ramps that provide quick access to the fishable waters of Fort Pierce and the open ocean."
Thomas favors repairing the marina, but said he opposes an expansion with the exception of the mooring field.
Heady believes the council should have received specific answers about the marina expansion before choosing the most extreme option. The firm helping to plan the renovations is expected to report back to the board with concrete cost figures and details about additional slips.
"There were a lot of questions and very few answers of what development would look like," Heady said. "I understand we're at the development stage, but the council should have gotten more answers at that meeting. The marina shouldn't be something just left to deteriorate, and that's kind of what happened."
Heady, however, has a dramatically different future in mind for Centennial Place. He believes the former electric utility should be repurposed as a water treatment facility to create potable water, while the current wastewater facility should be used to clean stormwater runoff instead of being relocated inland.
The race will be decided Nov. 5 with the top two vote getters winning the open seats.