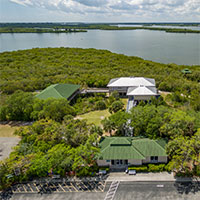 Environmental Learning Center expansion underway
STORY BY SAMANTHA ROHLFING BAITA

The Environmental Learning Center is finally moving forward with its multimillion-dollar expansion master plan. According to Board Chairman Don Barr, a $1 million donation for an education and event pavilion earlier this year and a more recent $100,000 donation for a pontoon dock have made it possible to get those projects underway.
"We hope to complete both within 12-18 months," Barr said.
The nonprofit's board sent RFPs for work on the education and event pavilion to five architectural firms, interviewed two and, last month, selected local architects Edlund-Dritenbas-Binkley to design the pavilion.
According to Barr, Coastal Tech, a Vero Beach engineering consulting firm, has evaluated the existing pontoon dock's condition and will design the improvements, develop cost estimates and obtain any needed permits, "all pro bono." 
Dock improvements will include new railings, solar-powered lighting, seating at the dock entrance,  a kayak launch and a mechanism for moving wheelchair occupants from the dock into and out of the pontoon boat.
ELC board member Tim Buhl is coordinating both projects.
During the past year, the county's flagship environmental organization underwent major administrative changes in the shadow of the masterplan effort.  Executive Director Molly Steinwald left abruptly, citing "differences in governance and understanding of the immediate needs of the organization."
Less than a month later, the organization lost another top exec – Chief Operating Officer Margaret Kearney – and a number of other staff members resigned as well. At the time the executives departed, Barr cited disagreements about ELC's major reorganization efforts, including a greater focus on seeking philanthropic donations, as the probable cause of leadership turnover.
A second problematic issue related to the master plan involved the Laura Riding Jackson house, a historic structure that had stood on leased ground on the ELC campus for 25 years.  It had been used for classes and community literary events, but was not included as part of the master plan.
Finding they would have to move the 110-year-old house and its barn to a new location, members of the Jackson House Foundation board went through a period of anxiety and uncertainty before community supporters rallied and a new home was found on the Vero Beach campus of Indian River State College, where the structure now stands.
The Environmental Learning Center is located on a 64-acre island campus at the western base of the Wabasso Bridge on the Route 510 causeway. Since its genesis in 1988, it has become the epicenter of nature education, exploration and hands-on experiences for adults, families and especially school children in Indian River County – so much so that, after three decades, its programs and participants have outgrown the existing facilities.
When complete, the revamped campus will include a 23,455-square-foot interpretive center; a 4,750-square-foot volunteer training and grounds stewardship center; a 1,350-square-foot "critter corner"; and a 641-square-foot lagoon terrace, as well as the education and event pavilion and upgraded dock.
At the ELC helm today as the master plan expansion gets underway is attorney and second-generation Vero Beach native Barbara Schlitt Ford, a livelong nature lover who took the executive director position in April after being selected via what Barr calls "a very extensive national search."