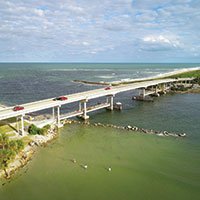 If this bridge closes, what happens then?
STORY BY GEORGE ANDREASSI

Will the heavily used Sebastian Inlet bridge connecting Brevard and Indian River counties close while the 55-year-old structure is being replaced by a new span in 2026?
If so, how long will northbound and/or southbound traffic on A1A be interrupted?  Months?  Years?
What will the 3,000-plus cars that use the A1A bridge each day to get from Brevard County to Indian River County or vice versa do when the closest alternative routes require crossing the lagoon many miles to the south or north?
And what will the financial impact of a bridge closure be on residents?  Small businesses?  For that matter, on Sebastian Inlet State Park?
Those at the moment are million-dollar questions for engineering consultants to answer, according to Florida Department of Transportation officials.
"I couldn't answer any of those things until we get those people on board, they do some analysis, start looking what type of structure, how much property do we own in the area," said Gerry O'Reilly, FDOT's South Florida district secretary.
"That's why we do the studies," O'Reilly said during an interview with Vero Beach 32963 following the Oct. 9 Indian River County Metropolitan Planning Organization meeting.
An engineering study with a $2.6 million price tag will help FDOT decide how to build a new $50 million-plus replacement bridge across the Sebastian Inlet.
The study will help FDOT determine how to keep traffic flowing on the bridge while the new span is being built, O'Reilly said. He dismissed a rumor FDOT plans to close the southbound lane.
"I don't know where that rumor came from because we haven't done anything short of saying, 'It needs to be replaced, let's hire the consultants to do the studies,'" O'Reilly said.
Corrosion and new standards have rendered the James H. Pruitt Memorial Bridge "structurally deficient" and "functionally obsolete," O'Reilly said.
But the bridge is still safe enough to handle 3,150 vehicles per day until it is replaced by a new span linking the two barrier islands, O'Reilly added. Construction is to start in 2026 and take several years to complete.
The 1,600-foot-long A1A bridge traverses a 500-foot-plus wide section of the Sebastian Inlet. It is 17.5 miles from the Melbourne Causeway, the closest route off Brevard County's barrier island.
 It is also about 8 miles from the Wabasso Causeway, the closest route off Indian River County's barrier island.
 FDOT decided to build a new bridge after a routine inspection on Nov. 14, 2018, found so much corrosion that major repairs would not significantly extend its useful life, an FDOT fact sheet says.
"The analysis they did said, 'Listen, it's past rehab. You need to be looking at replacement,'" O'Reilly told the county's transportation planning panel.
FDOT budgeted $2.6 million in 2021 for a Project Development & Environmental Study for the new bridge, $6.2 million for project engineering in 2022 and $2 million for environmental studies in 2024, records show.
As far as construction costs, O'Reilly said, "A crazy guess would be somewhere in the $50 million range if we were building it today, that type of money."
The bridge construction money will be added to next year's five-year work plan for 2026, O'Reilly said.
The MPO – which consists of all five county commissioners and six city and town council members – voted unanimously to approve FDOT's five-year work plan for the county, including $11 million for the A1A bridge replacement ground work.
The new bridge will include bicycle lanes and sidewalks, which are a standard feature in all new bridges, O'Reilly said. FDOT will also work with Sebastian Inlet State Park officials on the bridge design.