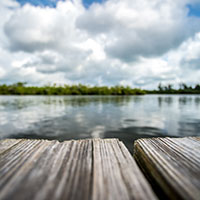 Innovative oyster mats filter millions of gallons of polluted lagoon water
STORY BY SUE COCKING

Scientists and engineers from around the U.S. spent last Friday proposing and demonstrating innovative technology for restoring the ailing Indian River Lagoon at an event hosted by Florida Tech's Indian River Lagoon Research Institute.
The daylong event featured presentations on everything from muck removal to new steel oyster mats intended to reduce the amount of plastic that ends up in the ocean.               
With plastic becoming a growing concern, Dr. Kelli Hunsucker and her graduate students have been experimenting with replacing plastic oyster mats with steel mats and running electrical currents through them – a technique used successfully to spur coral growth for reef restoration.
Hunsucker said an eight-month pilot study  showed about the same amount of oyster settlement on both plastic and steel mats.
Dr. Robert Weaver said the oyster mats can be attached to existing docks and fastened near the water's surface.  That way, the oyster mats  require almost no maintenance, he added.
"At one of these docks, 40 to 80 million gallons a year are being filtered," Weaver told the conference.
"That's 132 Olympic-size swimming pools just filtered by oysters at that one dock."