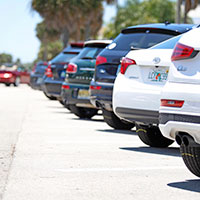 Most Vero candidates see need for more beachside parking
STORY BY NICOLE RODRIGUEZ

There's a consensus among seven candidates running for two open seats on the Vero Beach City Council that something needs to be done to relieve parking congestion in the Central Beach business district. Only Brian Heady, a gadfly who runs in every election but won only once a decade ago, doesn't think there is a problem.
"If they want to spend money fixing something, don't you think it should be broke if you're going to fix it?" Heady said. "It ain't broke, don't fix it. They had a consultant and the consultant said that even on the busiest days, there's excess parking."
Despite Heady's view, oceanside shop and restaurant owners have long complained about losing customers because of parking shortages near their businesses.
The seven candidates who acknowledge the problem generally like the preliminary solutions suggested by planning and design consultant Kimley-Horn, which was hired this year by the city at a cost of $71,000 to analyze the parking problem and identify potential fixes. They also have ideas of their own.
Kimley-Horn suggested a set of short-term fixes that will cost about $500,000. They include creating an additional 79 parking spaces by permitting parking in front of multifamily housing or commercial buildings on east-west streets near the problem area, a solution that would cost around $400,000 for curbing, gutters and pavement.
The consultant also proposed consideration of center street parking on Cardinal Drive to create additional spaces and using a $75,000 license-plate reader to catch motorists – mostly hotel and shop workers – who game the system and add to congestion by moving their cars from space to space throughout the day to avoid receiving a fine for parking too long in a two- or three-hour slot. 
"I like the idea of capturing the off-street parking – 79 spaces that could be paved and curbed – that's an easy solution," said candidate Joe Graves, a local attorney and island resident. "Studying center street parking on Cardinal Drive could capture us another 40 spaces."
Candidates also like the idea of public/private lot-sharing partnerships between the city and private lot owners, and said the city should take the lead in creating the partnerships.
"I support city-led public-private partnerships," said Jeff Nall, an adjunct professor who teaches philosophy and humanities at Indian River State College and the University of Central Florida. Candidates Rey Neville and John Cotugno, both island residents, agree the city should assist in partnership talks.
"My order of preference is first to develop a comprehensive plan to present to our neighbors who own these lots to see if we can't find a strong cooperative working arrangement either between the businesses or with the city intervening in the middle to make sure they're not harmed by frivolous lawsuits or trash in their parking lots," said Neville, a retired Air Force colonel.
"The city really needs to be a catalyst and facilitator to get it done properly because if you just leave it to get done on an ad hoc basis, it probably won't get done," said Cotugno, who worked in sales and marketing for various companies including Texas Instruments before his retirement.
Kimley-Horn found that the great majority of 3,108 beachside parking spaces are privately owned, with only about 750 public spaces. During a period of peak demand on Thursday, March 14 at 2 p.m. when street parking places were jam packed, there were 655 empty parking spaces in private lots.
Candidate Estelle Panagakos, a retired school teacher and probation officer, believes the Farmers Market Oceanside, held Saturdays on Ocean Drive, should be relocated to Riverside Park to free up spaces on at least one busy day of the week. She also said additional parking spaces beyond those outlined in the consultant's report could be created closer to the problem area.
"I could walk around there and show you all the places they could put extra spaces," Panagakos said. "They're wasting a lot of the area with green spaces."
Bob McCabe, an island resident who unsuccessfully ran for a City Council seat last year and is trying again this year, likes the proposed short-term fixes, too, but is concerned long-term solutions are being ignored.
"There are clearly longer-term issues that should be studied and evaluated," McCabe said, adding public hearings should be held directly by the council to hear recommendations, instead of just by the consultant.
Enforcement and clear signage indicating where available spaces are located are key factors in fixing the problem, according to candidate Nick Thomas, a lawyer who unsuccessfully ran for City Council and a seat on the Indian River County Commission in 2012.
"The city has over 100 public parking spaces in the commercial zone that we haven't even posted with signs yet," Thomas wrote on his website. "I suggest we do that and then step up enforcement, likely with a license reading camera, which will resolve the issue of people moving cars from space to space on a given day."