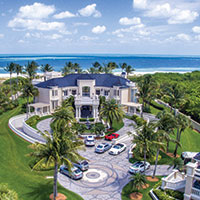 Palazzo Di Mare, aka 'barcode lady's house,' again up for auction
STORY BY STEVEN M. THOMAS
Photo: Aerial view of Palazzo Di Mare, commonly known by barrier island residents as "the barcode lady's house."

One of the most well-known houses on the barrier island is up for auction again, two and a half years after it sold in an earlier auction for $8.8 million.
The massive oceanfront home known variously as Palazzo Di Mare and "the barcode lady's house" was purchased in June 2017 by a limited liability company with a Vero Beach-based managing partner for $8.8 million.
After an 18-month renovation that dramatically transformed the property, the owner listed it with Cindy O'Dare and Richard Boga at Premier Estate Properties for $17 million in March. When the property had not sold by September, the decision was made to offer it at auction to achieve "a defined date of sale."
The no-reserve online auction was announced on Oct. 3 and bidding will begin at 4 p.m. on Nov. 5, continuing until 4 p.m. on Nov. 7.
Bidders have to put $100,000 in escrow in order to participate in the sale. Whoever has the high bid will be required to increase their deposit to 10 percent of the sale price by 5 p.m. the day after the auction and close by Dec. 6.
"The current owner has invested millions in reimagining this unique estate with an extensive designer-led renovation, and we look forward to identifying a new owner on auction day," said Boga.
Concierge Auctions, which handled the 2017 sale, is conducting the November sale as well, marketing the property locally, nationally and internationally in conjunction with O'Dare and Boga, who serve as local listing agents.
Concierge Project Manager Jennifer Middleton has been holding daily open houses at the property at 2150 South Highway A1A in the Estate Section south of The Moorings. The open houses will continue until the auction. Middleton said she has seen "a good amount of interest," from qualified buyers.
Completed in 1991, the 23,315- square-foot house sits on a five-acre ocean-to-river lot with 205 feet of ocean frontage and 198 feet of river shoreline. There are seven bedrooms, nine full baths and two half-baths, two elevators, stone and hardwood floors, a 14-car underground garage, a beautifully-tiled swimming pool and extensive landscaped grounds, including a sweeping back lawn that would do a 5-star seaside resort proud.
The house was the creation of Sharon Nicholson, the widow of William Nicholson, co-founder of Retail Grocery Inventory Service, now called RGIS, a leading inventory control company that utilizes barcode technology.
She bought the 5-acre property in 1994 and spent years building and decorating her ornate mansion, completing the house in 2001.
The property has been listed and offered at auction numerous times over the years, at prices ranging from $33.5 million to $17 million.
Prior to the renovation, the house had a heavy, Mediterranean look and feel. It was dark and closed off inside with an almost medieval Spanish décor – lots of heavy, ornate wood and black floors – and very few ocean views.
Now it resembles a classic Palm Beach oceanfront estate, updated and decorated in a light, bright but still very luxurious style, a breezy dream world with many sea views that is both restful and wonderfully alive with architectural and design elements that range from Moorish to Art Deco.
In 2017, eight registered bidders, including three from China, contended for the house. What happens this time around remains to be seen.
Middleton says the seller has the option of canceling the auction right up until it starts if too few serious bidders have emerged and there is doubt about getting a satisfactory price. After the auction begins, the seller cannot back out and whoever puts in the high bid will get the house.
Middleton expects opening bids in the $3.5 million-to-$7 million range. Based on the interest she has seen so far and the desire of the seller to move the property, she expects that an auction will take place.
"Very motivated seller on this one," she wrote in an email to Vero Beach 32963. "This will be a buying opportunity."