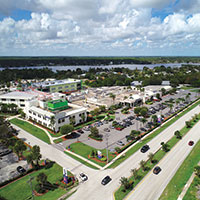 Patient volume a focus; hospital CEO replaced
STORY BY MICHELLE GENZ

Only a year after taking the helm of Sebastian River Medical Center, Kyle Sanders has announced he is leaving his post as president effective Nov. 19.
Daniel Knell, president of Steward's central division, said in a statement he was sorry to see Sanders go and expressed appreciation for his leadership and "valuable contributions to our mission."
Sanders' exit comes at a pivotal time for the 154-bed for-profit hospital. It is wrapping up a $65 million expansion that will open in February with 24 patient rooms – half the 48 originally announced.
While on the way out the door, Sanders provided 32963 with numbers which – if accurate – suggest that Sebastian River patient volumes may finally be recovering from what state figures show has been a steady decline since Steward Health Care took over the hospital in mid-2017.
The importance of patient volumes in the current healthcare environment was illustrated anew by the announcement this past week that a Steward-owned hospital in Phoenix, Ariz., St. Luke's Medical Center, was closing its doors due to an insufficient number of patients.
On an interim basis, the top job at Sebastian River will be filled by Ralph Taylor, currently chief operating officer as well as chief nursing officer. Taylor held the latter post at another Steward hospital in Youngstown, Ohio, that closed its doors a year ago. There too, Steward blamed low patient volumes for the shutdown.
St. Luke's occupancy rate over the past two years was consistently below 40 percent, the hospital's president Jim Flinn said in a statement about the closure. He said emergency room visits had declined 16 percent.
In the first quarter of 2019, using the latest acute inpatient figures filed with the state of Florida, and an acute inpatient bed total provided by Steward – 122 – Sebastian River's occupancy rate was an estimated 44 percent. That is down from an estimated 64 percent from first quarter 2017, before Steward acquired the hospital from Community Health Systems (CHS).
According to figures filed with the state, the quarterly year-over-year declines – some as great as 25 percent and 35 percent – continued almost without interruption through the first quarter of 2019, the latest figures available from the Agency for Healthcare Administration. By law, hospitals must report and certify patient volume totals quarterly in three key categories: acute inpatient discharges, emergency department visits, and ambulatory (outpatient) surgery visits.
Sanders called the declines in late 2018 and early 2019 "a blip," blaming them on an "F" safety score assigned to Sebastian River by the national ratings group Leapfrog in April 2018.
That score was raised to "C" six months later, and by this past spring, it was an "A." That grade will be updated in about a week.
Sanders further claimed the hospital was "on track to see volumes increase by 9 percent – an astonishing turnaround," he told 32963 in August, disputing the paper's reporting over the summer that volumes had been disappointing.
Pressed repeatedly for on-the-record numbers, he finally provided a batch in mid-October. While they showed the year-over-year decline continued through the second quarter, in the third quarter of this year – July through September – Sanders' numbers showed an upswing of around 10 percent.
The figures could not be verified, nor could they be readily compared to state figures because they include patients admitted under observation status, as well as those in the hospital's transitional care unit.
The state – which keeps score on the basis of inpatient discharges rather than by counting admissions – excludes both those categories.
Sanders also did not supply numbers on emergency department visits or ambulatory surgeries, both of which have declined year over year for all but two quarters under Steward, according to state statistics provided through March 2019.
In some quarters, the declines were dramatic. In the first three months of this year, visits to Sebastian River's emergency department fell by nearly a quarter as compared to the same period last year. From January through March 2018, 5,020 people sought care at the Sebastian ER. In the same period in 2019, that number fell to 3,774.
Ambulatory surgery visits – outpatient procedures that don't require admission – declined in every quarter but one, beginning in the first months with Steward at the helm: the third quarter of 2017, when there was a 21 percent drop – 356 fewer visits – from the previous year when CHS owned the hospital.
In January to March of this year, ambulatory surgeries declined 35 percent over the same period last year.
As for inpatient discharge numbers, the quarterly year-over-year declines range from a 13.9 percent drop in the third quarter of 2017, when Steward took over from CHS, to an 18.7 percent drop in the first quarter of 2019.
That latest figure represents a decline of nearly 24 percent from the same quarter two years earlier, when the hospital was still run by CHS.
Steward's two other Florida properties acquired in the CHS deal, Rockledge Regional Medical Center and Melbourne Regional Medical Center, also showed declines in inpatient and ER volumes, though ambulatory surgeries increased. Comparing 2016, the last full year under CHS, to 2018, the first full year under Steward, Rockledge and Melbourne each showed drops in inpatient discharges of around 16 percent. Emergency room visits declined by 8 percent at Rockledge and 7 percent at Melbourne, while ambulatory surgeries rose by 8 percent at each.
In the same two-year period, Sebastian River's chief competitors have both shown growth. Palm Bay Hospital saw inpatient discharge numbers increase by 17 percent. Indian River Medical Center, now owned by the Cleveland Clinic, increased its patient discharge numbers by 11.6 percent.
Ambulatory surgery visits climbed 19 percent for Indian River while Palm Bay's remained the same. As for the first six months of 2019, Cleveland Clinic Indian River has already announced another 10 percent increase in inpatient volume.