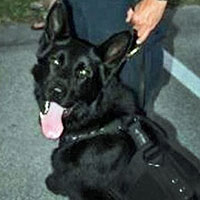 Sebastian cop acquitted in death of K-9 partner
STORY BY GEORGE WHITE
Photo: Sebastian police officer Eric Antosia and K-9 partner Diesel.

Sebastian police officer Eric Antosia will always have to live with what happened on April 28, 2017, to his K-9 partner Diesel, but at least now he can move on from legal actions that were lodged against him.
Diesel, a black German Shepherd dog, died after being left several hours in a police SUV on a day when temperatures rose to 88 degrees. Honored as a hero, Diesel's photo and story are listed alongside other fallen law enforcement personnel on the Officer Down Memorial Page.
But tears of relief and cheers marked last week's acquittal of Antosia, who had faced a first-degree misdemeanor animal cruelty charge.
The surprise dismissal by Brevard County Circuit Judge Kelly Ingram occurred before the three-man, three-woman jury got a chance to hear final arguments.
The three-day trial ended when Ingram ruled that Assistant State Attorney Michael Hill had not proved the cause of death of the animal, when and why the death occurred, if others had access to the vehicle, and the location of the vehicle at time of death, which could have been either in Indian River County or Brevard County.
Deemed a tragic accident without a crime, there would be no reason for criminal charges which held a fine of up to $5,000, according to the successful strategy employed from the start by defense attorney Gregory Eisenmenger.
Eisenmenger also argued that the state was relying on circumstantial evidence which was being used in place of direct testimony and evidence on many key elements in the case. One example was the testimony of a veterinarian who examined Diesel, but was limited in what she could be asked because the judge ruled she did not qualify as an expert witness.
Antosia, overcome with emotion, remained in his seat at the defense table until the courtroom had nearly emptied. An experienced and accomplished dog handler, Antosia remains off the K-9 unit by choice as he still grieves the loss of Diesel, said Eisenmenger.
Antosia will continue to work as a road patrol officer as he has since June 22, 2018, after the conclusion of the Internal Affairs investigation into the death, according to Sebastian Police Lt. Timothy Wood.
 "After extensive criminal and administrative investigations, all evidence indicates that this was an unfortunate tragic incident that was unintentional," said Sebastian Police Chief Michelle Morris. "We have examined every aspect of our procedures and equipment to prevent a similar situation from occurring again.
"While nothing is guaranteed, I am confident that we have addressed this best as is humanly possible."