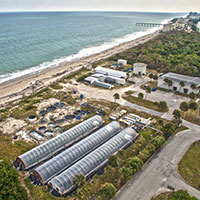 Tracking Station park set to close for beach repair
STORY BY NICOLE RODRIGUEZ

Tracking Station Beach Park will be closed Friday for the rest of the year as a major beach replenishment project gets underway, according to county officials.
The 3.1-mile project, which extends from north of the Seawatch Condos in Indian River Shores south through Central Beach to the Riomar Golf Course, will occur in three phases.
Tracking Station Park, Jaycee Park and Humiston Park will be used as access points where loads of sand will be trucked onto Vero's critically eroded beaches. Closure dates for the beaches at Jaycee Park and Humiston have not been announced.
The $6 million renourishment project will infuse more than 200,000 cubic yards of sand along the stretch of beach known as Sector 5. That area, already impacted by hurricanes Matthew and Irma, lost an average of 5 to 8 feet of dune during Hurricane Dorian, which spared the county a direct hit but produced big, destructive surf for several days.
Prior to the erosion caused by Dorian in early September, the Sector 5 project was slated to consume about 150,000 cubic yards of sand. The storm created a need for 50,000 more cubic yards and added $1.25 million to the project cost, according to County Administrator Jason Brown.
"The Sector 5 plans also include planting of the newly constructed dune crests with various native dune salt-tolerant plants, the most common being sea oats, to secure the newly placed sand, help capture wind-blown sand to naturally grow the dunes over time and provide additional sea turtle nesting habitat," county officials said in a statement.
The project is expected to be complete by April 30, 2020, prior to the start of sea turtle nesting season.
Two more big sand projects on the island are scheduled to start a year from now, in November 2020.
Between them they will add roughly 900,000 cubic yards of sand at a cost of $25.75 million along a 6.6-mile stretch of shoreline between the north island community of Seaview and Turtle Trail beach park near the Carlton condominium, an area the county calls Sector 3, and in Sector 7, a 2.2-mile stretch that extends from Seagrove to the Moorings.