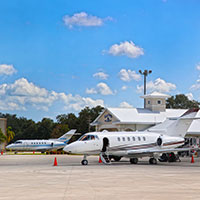 U.S. Customs facility at Vero airport will come at no cost to city taxpayers
STORY BY NICOLE RODRIGUEZ

Corporate Air Inc. plans to construct a multimillion-dollar U.S. Customs facility at the Vero Beach Regional Airport – pending the federal government's approval – and the state-of-the-art facility will come at no cost to city taxpayers.
The City Council last week solidified its support for the facility – which could become an economic boon for the area by attracting more air traffic from foreign destinations – by voting unanimously to allow the company to move forward with its plan and negotiate a deal that would indemnify the city of costs and liability.
"I think it's a big benefit to the community, to our businesses, to our city," Mayor Val Zudans said. "And it doesn't cost the city a penny."
Corporate Air, an aircraft fueling, maintenance and storage company founded at the airport in 1987, caters to private flights with a ramp large enough to handle a Boeing business jet and a 4,200-square-foot private terminal.
The company estimates the facility could cost upwards of $2 million and would be available for all flyers to use. Corporate Air would cover the operating costs, including the salary of a customs worker.
"The city is going to wind up spending no money on this," Michael Calvit, an attorney representing Corporate Air, told the council at its Oct. 15 meeting.
Currently, travelers bound for Vero Beach flying in from abroad have to land at Treasure Coast International Airport and Business Park in Fort Pierce – the closest airport with a customs post – and then take off again to Vero, a procedure that adds time and expense to each trip.
Vero Beach is the lone regional airport in the area to lack a customs facility. Stuart, Fort Pierce and Melbourne all have customs facilities.
An estimated 25 percent of air traffic that clears customs in Fort Pierce goes on to Vero Beach, local officials have said.
An average of 50 to 60 foreign flights a month to Corporate Air in Vero must clear customs at another airport before flying here, Corporate Air representatives said, adding a customs facility could increase air traffic by 30 percent and attract more travelers to the area who will fuel up, dine out and vacation more often in Vero Beach.
Local officials in August rolled out the red carpet for U.S. Customs and Border Protection agents at the airport in an effort to convince the federal government to approve the customs facility.
If constructed, the facility would process American citizens returning from foreign counties to confirm their identities, charge duties on certain merchandise and look for agricultural and narcotic contraband, Jennifer Connors, a CBP official from the West Palm Beach office of field operations, told Vero Beach 32963.
Non-U.S. citizens would be required to provide passports, visas or other documents proving their identities and showing that they have no legal issues barring them from entering the U.S.
The approval process for a customs facility in Vero Beach could be complete in months or take years, Connors said.
"It all goes through the U.S. Customs and Border Protection vetting process and our safety and security designs," Connors said.
Local officials, including Councilman Harry Howle and Indian River County Commissioner Tim Zorc – who in recent years pushed for the facility and received support from former Gov. Rick Scott – believe the facility could also attract more commercial air service.
The airport currently is served by one airline – Elite Airways – with scheduled flights to three domestic destinations.