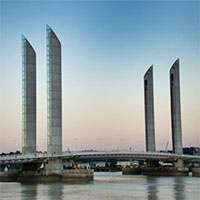 Virgin Rail seeks local support for costly new bridge
STORY BY GEORGE ANDREASSI
Photo: Example of an elevator bridge.

Virgin Trains USA is asking local officials in one of the counties its high-speed trains must pass through en route from West Palm Beach to Orlando to help apply for tens of millions of dollars in federal grants for an elevator bridge traversing the environmentally sensitive St. Lucie River.
The proposed new two-track bridge – featuring four 80-foot-tall lift towers – would replace an 81-year-old drawbridge, one of the few historic bridges Virgin Trains initially planned to rehabilitate. 
Virgin Trains Vice President Rusty Roberts met privately with Martin County and Stuart City commissioners during the past two weeks to pitch the lift bridge concept and ask their assistance.  "In order to undertake a project of this kind of scope, it's important to have local support," Roberts said. "They could even serve as co-applicants for the grant."
Roberts was scheduled to update South Florida and Treasure Coast officials on Friday in West Palm Beach on the company's efforts to establish passenger rail service up the Treasure and Space coasts to Orlando by summer 2022.
"The type of bridge we are exploring the feasibility of is called a 'lift bridge,'" Roberts said. "It works like an elevator, but it is called a lift bridge." Four columns would lift the bridge deck about 80 feet above the river so sailboats, large yachts and barges could go under, Roberts said.
When closed, the bridge deck would sit 18 feet above the river, so all but the largest vessels could pass beneath with no need to raise the span, Roberts said.
The lift bridge would alleviate longstanding concerns of Martin County boaters and the Marine Industries Association of the Treasure Coast, Roberts said.  Mariners worried the addition of 34 passenger trains per day to 20 daily freight trains would cause the old St. Lucie River Railroad Bridge to be locked down for long stretches and create boat traffic backups.
Virgin Trains hopes the Martin County and Stuart city commissioners pitch in to obtain federal money for the proposed lift bridge, Roberts said.
Stuart commissioners could vote as soon as November on a resolution endorsing the idea of pursuing a Federal Railway Administration grant for a lift bridge, said City Attorney Michael Mortell.
"I don't know how the commissioners are going to vote," Mortell said Friday. "I know people in Martin County don't like change and two giant elevator shafts sticking 65 feet in the air will definitely constitute change."
But cooperating with Virgin Trains on the proposed lift bridge could help city officials convince the company to develop a train station in downtown Stuart, Mortell said.
And building the lift bridge would resolve the boat traffic issues in the St. Lucie River, Mortell said.
"In my mind, it offers a lot of benefits and the alternative seems like it won't work," Mortell said. "If we just have a single-track bridge with a 5-foot clearance (above the river), I think it'll end up being closed so much for trains and so few boats will be able to go through, it will really impede the maritime (traffic)."
Virgin Trains had previously indicated the St. Lucie River Railroad Bridge would be the only section of the Orlando-to-Miami route with a single track.
"I assume what's really happened is they've determined the single track is just not going to work out, so they're trying to fix it to be double-tracked," Mortell said.
An average of 455 boats passed through the bridge on Sundays and 351 on Saturdays in 2015, a Martin County report shows. The average daily boat count ranged from 110 and 176 on weekdays.
The St. Lucie River is part of the Okeechobee Waterway, a federal transportation facility linking the Atlantic Ocean to Lake Okeechobee and ultimately the Gulf of Mexico.
Several Martin and Indian River county officials criticized Virgin Trains' efforts to obtain more government money for a project originally billed as privately funded.
"I recognize the bridge has to be improved, but that's not taxpayers' responsibility," said Martin County Commissioner Sarah Heard. "That's Virgin Trains' responsibility."
"I don't want to go on the hook any more for Virgin Trains," Heard said Friday. "I think we've been generous – too generous. I think it's time for the taxpayers to stop building their infrastructure."
Indian River County Attorney Dylan Reingold expressed similar sentiments about the possibility of federal funding for St. Lucie River Railroad Bridge.
"Why wasn't Brightline and Virgin Trains proposing to do that from the beginning?" Reingold said Friday. "It seems like their proposal was: 'No, that's too expensive. We're just going to later get the federal government to pay for it.'"
Virgin Trains USA earlier decided to replace the 93-year-old St. Sebastian River Railroad Bridge with a modern 1,600-foot-long concrete bridge linking Indian River and Brevard counties.  Indian River County officials said Virgin Trains has not yet told them the details of the plans to for the bridge construction.
Meanwhile, state Rep. Tyler Sirois (R-Melbourne) said Friday he supports state Sen. Debbie Mayfield's passenger rail safety legislation and intends to sponsor a companion bill in the House during the session starting Jan. 14.
Sirois, who generally supports passenger rail expansion in Florida, said it's important to his constituents in southern Brevard County to ensure the Virgin Trains passenger service is as safe as possible.
"Sen. Mayfield and I want to make sure FDOT is paying attention to this issue and providing proper oversight to make sure this is safe for residents and commuters," Sirois said Friday. "We're discussing this issue with more urgency. I expect that to continue over the next few months."
Public attention on the controversial Virgin Trains project has intensified recently as new track construction gains momentum and the passenger rail service kills more people in South Florida.
Virgin Trains killed 22 people through Sept. 30, federal records show.
The deaths have served as a rallying point for officials calling for stricter safety regulations and greater Florida Department of Transportation oversight for passenger rail service statewide.
Indian River County officials fear passenger trains traveling up to 110 mph pose a greater threat than freight trains traveling 60 mph for pedestrians who walk across the tracks and motorists who get caught on the tracks after the safety gates come down.