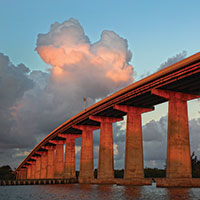 Wabasso bridge is named after person who never existed
STORY BY NICOLE RODRIGUEZ

A local bridge that was supposed to be named after an island citrus pioneer was accidently dedicated to a fictitious person and the mistake remained enshrined in state records for more than 50 years. Now it may get corrected.
When descendants of famed island citrus grower A.B. Michael recently learned the bridge connecting the barrier Island to the mainland in Wabasso had been named in honor of A.B. Mitchell – apparently a non-existent person – instead of their prominent relative, they were shocked, as were county officials.
The error was made so long ago that no one can quite figure out how it happened, but the county commission has a fix in the works. In September, commissioners passed a resolution requesting the Florida Legislature enact legislation designating the arched concrete structure as the "A.B. Michael Bridge," in addition to erecting markers on the bridge with that name.
County officials expect State Sen. Debbie Mayfield (R-District 17) to enter a bill next legislative session to accomplish the change.
"I was startled," said Anne Michael, 92, an island resident who was A.B. Michael's daughter-in-law, describing her reaction when she learned of the mistake. "I don't even know an A.B. Mitchell."
Renaming the bridge after her father-in-law is meaningful for her whole family, but would have been especially significant for her late husband, J.W. Michael, who shared a special bond with his father.
"For my husband, I am very pleased, because he was very close to his father," Anne said. "He from first-hand knowledge knew how much his father had done to help citrus."
The couple was married in 1950 and had three children. J.W. Michael died in 2007.
The County Commission in 1964 passed a resolution requesting the Legislature enact legislation designating the bridge in Wabasso as the "A.B. Michael Bridge." But according to a Florida Department of Transportation list of current road designations, the structure was misnamed.
County officials are mystified how the decades-old mistake occurred. After receiving a tip about the error, officials scoured the history books for A.B. Mitchell to no avail, County Administrator Jason Brown said, adding the mishap likely was an innocent typo.
"We're going through the process that you would for a new naming," Brown said. "But it seems like a no-brainer to me when it was supposed to be named the A.B. Michael Bridge many years ago and that never got done. We are correcting a historical mistake."
A.B. Michael was born in West Virginia in 1877. He moved to Florida with his parents in 1886, settling in Wabasso on the Indian River Lagoon. He spent more than 60 years as a pivotal member of the Florida citrus industry and was known as the "Dean of the Florida Citrus Industry" because of his lengthy involvement with the industry, according to county documents.
Michael was also active in politics, campaigning for Dan McCarty in 1948, when he lost the governor's race, and then again in 1952, when he won. During his career, Michael also served on the Everglades National Park Commission and on the Florida State Chamber of Commerce Board of Directors, according to county historical records.
Michael, who continued working well into his 80s, died suddenly in 1964 from complications of a car accident. He was inducted into the Florida Citrus Hall of Fame the same year he died.