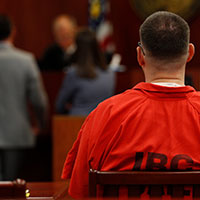 Will Jones be star witness at murder trial?
STORY BY LISA ZAHNER

Not since the Ira Hatch racketeering trial of 2010 has such a cast of local witnesses been assembled as up to 152 people could be called to testify over the next four weeks as Jones faces first-degree murder charges – finally after five years of delays – for a June 2014 crime.
Courts were closed Monday for the Jewish New Year holiday of Rosh Hashanah, but potential jurors were to begin reporting for duty in batches of 25 to 50 people twice a day, morning and afternoon for a process called voir dire. Loosely translated from French, the legal term means "to speak the truth," and that truth is what attorneys for the prosecution and the defense hope to get out of the pool of roughly 200 people this week.
Lawyers want the truth about what prospective jurors have heard, read and seen about the murder of 26-year-old Moorings resident and Sebastian River Medical Center nurse Diana Duve, who police say Jones strangled to death in his condo before leaving her body in the trunk of her car in a Melbourne parking lot.
The defense especially wants to elicit the truth about the jury pool's feelings about the death penalty – a punishment very much on the table in this case should Jones be convicted.
To dig deep for that truth, lawyers had nearly a week to pore over detailed questionnaires completed by potential jurors. Jones, a lawyer by training, sat alongside his three defense attorneys looking more like fourth-chair counsel than a murder defendant.
Up to last week Jones appeared in court in handcuffs, shackles and the bright orange jumpsuit for pre-trial hearings. Last month he sported a long, bushy beard and shaved head looking rather menacing.
Then he shaved his face and started growing his hair back so when cloaked in nice pants, a crisp business shirt and tie for the jury, he might look just like that guy who worked as an investment banker at PNC Wealth Management. Or that affable guy who attended Chamber of Commerce functions and mingled with Vero's young professionals at happy hour.
That is the Michael Jones jurors will see, the one with multiple advanced degrees who worked on Ocean Drive managing the portfolios of wealthy beachside clients. Somehow jurors will need to weigh that image against what they may have seen or heard about the man's heinous alleged crime and judge him impartially – if they can.
At the same time, they will hear medical experts testify that Jones has brain damage which affects his impulse control, that he endured a wretched childhood at the hands of a father who showed him how to be controlling and abusive. The defense will present Jones as a victim.
So which one is he?  The scary-looking inmate from last month with the wild eyes and the unkempt beard? The well-groomed, laid-back smooth operator with the intellectual look in the shirt and tie? Or the deeply wounded, abused child with brain damage who allegedly vents his past trauma and rejection by lashing out violently? Or maybe a bit of all of the above, rolled into a very complex and volatile personality – the classic Dr. Jekyll and Mr. Hyde?
The next four weeks' proceedings are intended to ferret out the truth as prosecutors present evidence that Jones committed premeditated murder, killing his girlfriend with his bare hands, while defense lawyers use every angle they can to plant the seeds of reasonable doubt.
In the courtroom this week, both legal teams will grill potential jurors about some pretty sensitive and emotional topics like violent crime and the death penalty. Judge Dan Vaughn has ruled that jurors can be questioned individually away from other jurors, but still in open court, about topics that might poison the rest of the jury pool if broadcast to the whole group.
It is expected to be a painstaking process, hopefully resulting in a 12-person jury plus alternates by the end of the week.
Meanwhile, attorneys and staffs at the offices of both State Attorney Bruce Colton and Public Defender Diamond Litty have been working on the logistics of making sure up to 152 witnesses get to Vero Beach in time to testify, and are prepared to take the stand. The alleged crime occurred five years and four months ago – an extremely long time for witnesses to remember dates, names and details.
Some of the events recalled by witnesses on the list, such as Jones' former romantic partners and family members, will be a decade old or more. Preparing those witnesses to make sure they are comfortable, confident and most importantly credible on the stand started more than a week ago with attorneys working nearly around the clock.
Potential jurors will be shown the six-page list of potential witness names and asked if they know anyone on the list. Along with dozens of law enforcement officers from Indian River, Brevard and St. Lucie counties, the list contains the names of medical experts, two medical examiners, co-workers of Jones from PNC Wealth Management, Jones family members, Duve family members and friends of both Jones and Duve.
The 15th name on the third page reads, "Jones, Michael David."
Still unknown is whether or not Jones will testify on his own behalf.
He asked to testify during an evidentiary hearing this summer and his lawyers did not allow him to do so. When Jones petitioned to fire his defense team in August, Jones listed that decision not to let him testify as one of several ongoing disagreements he was having with his defense counsel about strategy. The other main cause of friction, Jones had said, was that his lawyers, Assistant Public Defender Stanley Glenn, Assistant Public Defender Dorothy Naumann and Assistant Public Defender Shane Manship urged him to take a plea deal instead of going to trial.
"Defendant's counsel wishes for defendant to agree to a plea of life without the possibility of parole," Jones stated in his Aug. 21 motion that failed to convince Vaughn to dismiss the defense team.
But after his arrest for Duve's murder, Jones did testify in a Broward County domestic violence case involving an ex-girlfriend who came forward and pressed charges on events she said occurred in 2013, before Jones moved to Vero. The young woman, who had reported the crime but was previously fearful to follow through with police, summoned up the courage to come forward knowing Jones was safely behind bars after she was contacted by investigators to provide background on Jones for the Vero murder case.
Vero Beach 32963 covered this case from Fort Lauderdale and Jones was acquitted – largely based upon the credibility of his own testimony, and the doubt Jones' version of events cast upon the case with jurors.
The ex-girlfriend, also coincidentally a young nurse like Duve, made some chilling allegations that Jones attacked her, held her in his residence against her will and tried to kill her by manual strangulation. Fortunately, she was able to escape under the guise of running out to the store.
In his defense, Jones told the Fort Lauderdale jury a very different account of events. As we reported in March 2016, he told the six jurors – four men and two women – that he had picked up a woman named "Katie" at Fat Tuesdays and brought her back to his condominium to have sex. He said the ex-girlfriend then showed up and found him with the other female, that a "catfight" ensued and that Katie caused the marks on the ex-girlfriend's neck – all while he stood by and watched.
Despite having no clue who the mysterious "Katie" was or how to find her to corroborate his story, Jones swayed the jury. He was calm and convincing on the stand, knowing that the jurors had no idea he was facing murder charges five counties away in Vero Beach because his defense team had gotten that information excluded from evidence.
Jurors found out about the murder charge only after the not guilty verdict was read in Fort Lauderdale and Duve's mother, Lena Andrews shouted out, "He killed my daughter!" from the court gallery.
Defense attorneys have raised strong concerns that Duve's mother and stepfather have occasionally shouted emotional taunts at Jones in the courtroom during hearings on pre-trial motions, and that they might do the same during the trial, as the defense will likely attack Duve's reputation as they cross-examine the state's witnesses.
It is expected the defense will paint Duve as a heavy drinker who made questionable life choices and who voluntarily rekindled her romance with Jones, even after telling her friends that Jones had tried to kill her. This line of questioning by victim-shaming surely will not sit well with Duve's loved ones.
The responsibility falls on Judge Vaughn to keep a very tight rein on outbursts by anyone while the jury is present. The last thing prosecutors and police want in this case is a mistrial after waiting five years for their opportunity to seek justice.